Chase Total Checking® + Chase SavingsSM offer up to $250 Bonus when you open a Chase Total Checking® with direct deposit and a Chase SavingsSM with $10,000 deposit within 10 business days(must maintain $10K for 90 days). You get access to 18,000+ Chase ATMs and 5,500 branches along with 24/7 customer service. From innovative features to trusted service, Chase gives you the opportunity to do more with products such as Chase QuickDepositSM and Chase QuickPaySM. You can deposit checks almost anytime, anywhere with the ease of taking a picture using your phone plus pay people without cash or checks to virtually anyone who has an email address or mobile number. Apply Now---

Chase Checking & Savings Review
The new Chase Bank $125 cash bonus coupon code promotion is now available with direct deposit. Simply set up direct deposit along with $100 opening deposit to receive $125 cash bonus. You could apply online or print out the coupon and take it to the nearest branch. You may also ask them for a $100 Savings account coupon for $10K deposit, your mileage may vary depending on the CSR and Chase bank location. Find all Chase Coupons on our exclusive list!
Chase Checking Hint: With a Chase Checking account, you may wan to check out our list of thousands of dollars in Chase Credit Card Bonuses.
Chase Checking Account Benefits:
FREE access to 18,000 Chase ATMs nationwide
FREE Online Banking & Online Bill Pay
FREE Chase Debit Card with built-in security
FREE Text and E-mail Alerts
24/7 access with Chase MobileSM on your phone
Chase Tips to Keep Account Free:
To keep Chase Total Checking free, do one of the followings each statement period:
Set up monthly direct deposits totaling $500 or more to this account.
Have a daily balance of at least $1,500 in your account.
Keep an average balance of $5,000 or more in your checking and other types of qualifying Chase accounts.
There is a $12 monthly service fee will apply ($10 monthly Service Fee in CA, OR, and WA) for not doing one of the above. Also, Chase gives you the first two months at the beginning to meet those above feature. Plus, anytime you are assessed a fee, be sure to give the CSR that helped you open the account and let them know to give you a one time courtesy fee reversal.
S0 print out the Chase Checking promotion via email or apply directly online through Chase bank ASAP before they take it down. The $125 bonus offer doesn't apply to the following Chase checking accounts: Chase High School, College, Access, Customized, and Online Checking. Also, you cannot have a Chase account within 90 days to qualify. Monthly direct deposit includes your employer or the government of your payroll, pension, or government benefits. They will deposit the $125 bonus within 10 business days after your initial direct deposit. There is one Chase checking account bonus per calendar year and your account must remain open for at least 6 months.
Check out more Bank Bonuses now!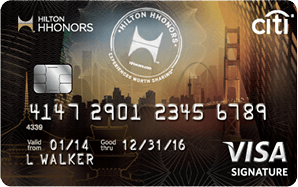 Citi Hilton HHonors Visa Signature Card offers 40,000 Hilton HHonors Bonus Points after spending $1,000 within 4 months of account opening. You get 6 HHonors Bonus Points for each $1 spent at a participating hotel within the Hilton HHonors portfolio. Earn 3 HHonors Bonus Points for each $1 spent on purchases at supermarkets, drugstores and gas stations. Then earn 2 HHonors Bonus Points for each $1 spent on all other purchases. Enjoy the benefits of HHonors Silver status as long as you are a cardmember with no annual fee. Apply Now---

Citi Hilton HHonors Review