Headquartered in Detroit, MI and founded as GMAC in 1919, the company was renamed Ally Financial in 2010. Since then, the business has expanded to include insurance, online banking, mortgage operations and commercial finance. Today, Ally Bank offers some of the highest interest rates on many of its banking products: savings accounts, checking accounts, classic and no penalty CDs, and money market accounts are all offered at very competitive rates. Currently, their high yield online savings account is offering 0.99% APY with no monthly fees, no minimum balances, and no minimum deposits. Why does Ally Bank offer such high yields compared to other commercial banks? Since its online savings account is an online entity, Ally Bank can offer their customers higher yields because of the decrease in overhead costs incurred by the typical brick and mortar banks. You can rest assure your investments are safe and insured as Ally Bank is a member of FDIC and is fully insured. In addition to their rates being constantly among the top, they are known for their live 24/7 customer care support. Ally Bank takes pride in their incredibly responsive customer service. You can speak with a customer representative live on the website, via telephone, or email.
Savings Account Features:
Open with $0. Account funding can be mailed in or done electronically via another bank account.
No minimum balance.
No monthly maintenance fees.
Daily compounded interestfor maximum earnings.
Insured to the maximum allowed by law.
Six transactions per statement cycle with no fees.
Your actual variable rate will go into effect when you make your opening deposit.
There are no hidden fees, and Ally Bank doesn't charge for the day-to-day management of your money. However, some things come with a small transaction fee. Each transaction exceeding six per statement cycle incurs a $10.00 fee. Overdraft Item Paid or Overdraft Item Returned (maximum 1 fee per day) charges $9.00, and Returned Deposit Item costs $7.50.
Ally Bank attracts customers by offering simple, transparent products at competitive interest rates. If you are ready to earn a higher rate than traditional savings and get free online banking transactions, open an Ally account in 10 minutes or less today.
Visit our table for the best bank rate now!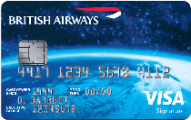 British Airways Visa Signature® Card offers 50,000 BONUS AVIOS after you make $2,000 in purchases in the first 3 months of account opening! Earn Avios with every purchase then use your bonus Avios towards rewards flights. No foreign transaction fee when you make purchases abroad. You will also get 2.5 Avios for every $1 spent on British Airways purchases and 1.25 Avios for every $1 spent on all other purchases. Every calendar year you make $30,000 in purchases on your British Airways Visa card, you'll earn a Travel Together Ticket good for two years. Chip with Signature Technology allows you to use your card for chip based purchases in Europe & beyond, while still giving you the ability to use your card as you do today at home. There is no annual fee for the first year, then $95 afterwards. Apply Now---

Chase British Airways Review