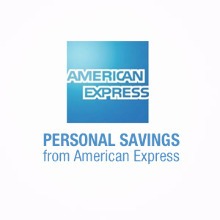 If you're looking for a high savings account, the American Express High-Yield Savings Account is now offering 0.95% APY on all account balances. There are a few factors in particular you're sure to be interested in if this is something you're considering, and want to learn more about this specific high yield savings account.
One of the best features of this particular account is that it offers 24/7 account access. This makes it much more convenient for you as a client, because you're able to access your account whenever you want. You don't have to worry about store hours and can access your account by phone or web. You don't have to make time in your busy day to get to the bank, when you can just flip open your computer and do everything you need to from there.
Whether you need to check your balance, transfer money or perform other transactions you will find it easier and more convenient than ever with the American Express High-Yield savings account. There are no fees and no minimums, meaning big savings for you. They understand that you work hard for your money and they don't want you wasting it away on unnecessary fees. They make it as affordable and easy for you as they can, allowing you to save your money.
This account also comes with FDIC insurance, ensuring your account is always properly protected. Your deposits are covered, so you have peace of mind and don't have to worry about any risk put on you. If this type of savings account sounds ideal for you, you can contact one of the expert team members on the American Express team to find out more. They have superior customer service, so there is always someone there to help out and answer any questions you may have.
Another advantage of the American Express high-yield account lies in the competitive rate offered with this account. Not only is your money always safe and secure, as well as easily accessible, but you also know that you're gaining the highest amount of earnings on your money, making it a more valuable choice that others. You want to know that you're going to be rewarded accordingly for saving your hard-earned money, and that's exactly what you get with this American Express savings account. You get nothing less than the best and whether you've been saving money for years or you're just getting started, you're always making the most on your money.
You can get started at any time and no matter how many other accounts you currently have, you can open an American Express savings account and start saving your money wisely. There are many options available when it comes to high yield accounts, but this one stands out from the rest. These are just a few of the reasons why.
If you're on the search for a high yield savings account, this is one well worth consideration. The American Express high-yield savings account certainly has a lot to offer.

Hot Deal of the Day: Amazon has Klipsch Image X10 Noise-Isolating Earphones w/ $2 Amazon MP3 Credit for $84.99. Shipping is free.
Barclaycard Arrival PlusTM World Elite MasterCard® offers 50,000 bonus miles after $3,000 in purchases within the first 90 days from account opening. It's a new premium travel rewards card with 2% cash back towards travel. This 50,000 bonus miles is redeemable towards $500 in cash credit towards any travel purchase along with 5% miles back every time you redeem. Enjoy no foreign transaction fees on anything you buy while in another country along with chip card technology for your purchase protection. There is also a 0% introductory APR for 12 months for each Balance Transfer made within 45 days of account opening. Best of all, you get complimentary online FICO® Credit Score access and the $89 annual fee is waived for the first year. Apply Now---

Arrival Plus Elite Review