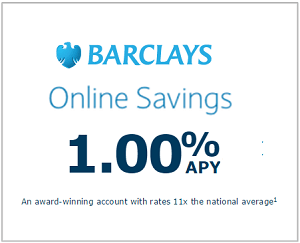 Open an Online Savings Account with Barclay Bank and receive a great rate of 1.00% APY. Barclay Online Savings Account is proud to deliver financial services of the highest quality by relying on traditional, time-honored principles like personal service and good, honest value. As a trusted community bank for over 150 years, they have deep roots in the communities and customers they serve. When you open an Online Savings Account with them, you will receive many features such as direct deposit, a maximum total of 25 accounts, online savings tools, and resources, and you won't have to worry about the security of your money because it's FDIC insured. Read on to see how to apply!
Barclay Bank Online Savings Account: 
Account Type: Online Savings Account
Rate: 1.00% APY
Availability: Nationwide
Expiration Date: None
Soft/Hard Pull: Unknown
Direct Deposit Requirement: None
Additional Requirements: None

Monthly Fee: None

Early Termination Fee: None
Why You Should Sign Up For This Account: 
No monthly maintenance fee: Most banks require you to pay a small fee in order to maintain a savings account, or they might waive the fee if you meet the specific requirements of maintaining a minimum balance. Barclay will not charge you no matter what. It is free and will remain free.
No minimum balance requirement to open: Unlike most banks, Barclay does not require a minimum to open an account.
Online savings tools: If you need assistance saving money for a particular goal, Barclay offers a "Savings Assistant" To use this tool, you enter your goal, how much it cost, and how much you saved up. It will calculate how much you need to contribute monthly and how long it will take you to reach your goal.
You can have a total of 25 accounts: if you want a savings account for each one of your goals, you could do that with Barclay. The bank allows you to open and maintain up to 25 total accounts. You can also open a CD account with the bank as well.If you want a savings account for each savings goal, you could do that with Barclays. The bank allows customers to open and maintain any combination of 25 total accounts, which means you can also open a CD account with the bank.
FDIC Insurance: Money inside your Barclays savings account is safe and insured by the FDIC.
Bottom Line:
Apply for the Online Savings Account from Barclay Bank to start saving with a 1.00% APY Rate. The best thing about opening an online savings account is that you can have a total of up to 25 accounts open. Overall, Barclay Bank provides a great rate and features and has been serving customers for over 150 years. I would highly recommend checking them out.
Barclaycard Arrival PlusTM World Elite MasterCard® offers 50,000 bonus miles after $3,000 in purchases within the first 90 days from account opening. It's a new premium travel rewards card with 2x miles back on each purchase. This 50,000 bonus miles is redeemable towards $500 in cash credit towards any travel purchase along with 5% miles back every time you redeem. Enjoy no foreign transaction fees on anything you buy while in another country along with chip card technology for your purchase protection. There is also a 0% introductory APR for 12 months for each Balance Transfer made within 45 days of account opening. Best of all, you get complimentary online FICO® Credit Score access and the $89 annual fee is waived for the first year. Apply Now---

Arrival Plus Elite Review