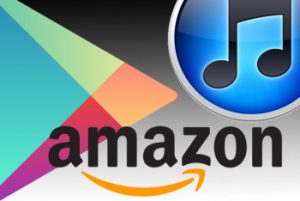 Here at Hustler Money Blog, we strive to give you the best of the best when it comes to special bank deals and promotions. Recently, we've found a new type of bank bonus from the help of our readers through our Rewards Program. This is a different type of bonus whereas you can earn cash reward per month for purchases of iTunes, Amazon, and Google Play store! Not only will you receive a monthly bonus, but these promotions usually have sign up bonuses which means more money for you. All you need to do is sign up for the account, enroll in eStatements, and a make a certain number of purchases each month to qualify. It's as simple as that!
Common Monthly Requirements:
Minimum Amount of Purchases: Usually, these types of promotions require you to make a certain number of monthly purchases to receive the monthly bonus. The only stickler to this requirement is that the purchases have to be from iTunes, Amazon, or Google.
Enrolling in eStatements: This is probably the easiest requirement to meet after opening your account. All you need to do is enroll in eStatements. Most banks allow you to do this at account opening or online. This way, you'll receive your monthly statement quickly and through email.
Enrolling in Online Banking: Once you are enrolled, simply log in at least once per month into your online banking account. They simply want you to use the account for your everyday usage.
If you've had any experience with these bonuses, be sure to let us know in the comment section below. We are continuously updating Hustler Money Blog, and your input would be greatly appreciated.
| Bank or C.U | Sign-up Bonus | Monthly Bonus | State(s) | Expiration | Review |
| --- | --- | --- | --- | --- | --- |
| 360 Federal Credit Union | $10 | $10 | CT | None | Review |
| 3Rivers Federal Credit Union | $10 | $5 | IN | None | Review |
| 5Star Bank | $8 | $10 | CO | None | Review |
| Air Academy FCU | $20 | $12 | CO | None | Review |
| Alden State Bank | $10 | $7 | NY | None | Review |
| Allegan Community Federal Credit Union | $20 | $10 | MI | None | Review |
| Allegiance Credit Union | $25 | $5 | OK | None | Review |
| all U.S. Credit Union | $25 | $12 | CA | None | Review |
| Altier Credit Union | $10 | $10 | AZ | None | Review |
| Atlantic Financial FCU | $20 | $10 | MD | None | Review |
| BAC Community Bank | $20 | $6 | CA | None | Review |
| Bank34 | $20 | $10 | AZ, CO, NM, OR, TX, WA | None | Review |
| BankFirst Financial Services | $9.90 | $4.95 | AL, MS | None | Review |
| Bank of Little Rock | $25 | $5 | AR | None | Review |
| BankVista | $10 | $5 | MN | None | Review |
| Bank of Weston | $10 | $5 | MO | None | Review |
| Baybank | $10 | $8 | MI | None | Review |
| Bellco Federal Credit Union | $20 | $5 | PA | None | Review |
| Benchmark Federal Credit Union | $10 | $5 | PA | None | Review |
| Best Financial Credit Union | $20 | $7 | MI | None | Review |
| Better Banks | | $5 | IL | None | Review |
| BluCurrent Credit Union | $15 | $5 | MO | None | Review |
| BlueOx Credit Union | $20 | $10 | MI | None | Review |
| BNC Bank | | $4.99 | VA | None | Review |
| Brenham National Bank | $9.90 | $4.95 | TX | None | Review |
| BTH Bank | $7 | $7 | TX | None | Review |
| Capital Credit Union | $15 | $5 | WI | None | Review |
| Capital Credit Union of TX | $20 | $10 | TX | None | Review |
| Capital Educators FCU | $10 | $5 | ID | None | Review |
| Carolina Premier Bank | $25 | $10 | NC, SC | None | Review |
| Casco Federal Credit Union | $10 | $5 | ME | None | Review |
| Century Bank | $10 | $10 | AL, MS | None | Review |
| Cherokee County FCU | $10 | $6 | TX | None | Review |
| Chief Financial Credit Union | $20 | $10 | MI | None | Review |
| Choice Financial | $10 | $5 | MN, ND | None | Review |
| Citizens Bank & Trust | $10 | $5 | AL | None | Review |
| Citizens Bank (1) | $20 | $10 | TN | None | Review |
| Citizens Bank (2) | $20 | $5 | TN | None | Review |
| Citizens Guaranty Bank | $10 | $10 | KY | None | Review |
| Citizens State Bank & Trust Company | | $5 | KS | None | Review |
| Citizens Savings Bank | $15 | $5 | PA | None | Review |
| Claremont Savings Bank | $20 | $7 | NH, VT | None | Review |
| The Clay City Banking Co. | $15 | $5 | IL | None | Review |
| Clover Community Bank | $20 | $10 | SC | None | Review |
| CNB Bank | $20 | $7.50 | MD, WV | None | Review |
| Coastal Community and Teachers Credit Union | $20 | $10 | TX | None | Review |
| The Community Bank | $25 | $5 | OH | None | Review |
| Community Bank of Raymore | $9.90 | $9.90 | MO | None | Review |
| Community Bank of Pleasant Hill | $9.90 | $9.90 | MO | None | Review |
| Community First Bank | $25 | $5 | PA | None | Review |
| Community State Bank | $10 | $10 | FL | None | Review |
| Cornerstone Community Financial CU | | $10 | MI | None | Review |
| Cortland Bank | $20 | $8 | OH | None | Review |
| Coulee Bank | $20 | $5 | MN, WI | None | Review |
| Countybank | $20 | $5 | SC | None | Review |
| County Bank | $10 | $5 | MO | None | Review |
| C Plant Federal Credit Union | $15 | $7.50 | KY | None | Review |
| Cross County Bank | $10 | $7 | AR | None | Review |
| The Dime Bank | $10 | $5 | PA | None | Review |
| Delta County Credit Union | $20 | $10 | MI | None | Review |
| Diversified Members Credit Union | $20 | $10 | MI | None | Review |
| Emprise Bank | $10 | $5 | KS | None | Review |
| ESB Financial | $25 | $5 | KS | None | Review |
| EVB | $25 | $10 | VA | None | Review |
| FAA Federal Credit Union | $10 | $7.50 | MS, TN, TX | None | Review |
| Family Financial Credit Union | $20 | $10 | MI | None | Review |
| Farmers Bank | $10 | $5 | AR | None | Review |
| Farmers Merchants Bank & Trust Company | $20 | $10 | LA | None | Review |
| Farmers & Merchants Bank | $20 | $5 | OH | None | Review |
| Farmers State Bank | $15 | $5 | OK | None | Review |
| FAST Federal Credit Union | | $9.90 | CA | None | Review |
| Financial One Credit Union | $20 | $5 | MN | None | Review |
| First Capital FCU | $15 | $5 | PA | None | Review |
| First Capital Bank of Kentucky | $10 | $7.50 | KY | None | Review |
| First Central Credit Union | $10 | $6 | TX | None | Review |
| First Colorado National Bank | $20 | $10 | CO | None | Review |
| First Community Bank | $20 | $10 | TN | None | Review |
| First Community Bank | $10 | $10 | AL | None | Review |
| First Federal Bank | $15 | $10 | KS, MO | None | Review |
| First Financial Bank | $10 | $7.50 | AR, MS | None | Review |
| First Financial Credit Union | $15 | $8 | NM | None | Review |
| First Hope Bank | $20 | $5 | NJ | None | Review |
| 1st MidAmerica Credit Union | $20 | $10 | IL | None | Review |
| First National Bank | $10 | $6.50 | OK | None | Review |
| First National Bank of Mifflintown | $20 | $10 | PA | None | Review |
| First Security Bank | $9.90 | $8.95 | IA | None | Review |
| F&M Bank | $30 | $5 | OK | None | Review |
| Fox Valley Savings Bank | $20 | $5 | WI | None | Review |
| Frankenmuth Credit Union | $20 | $10 | MI | None | Review |
| Frontier Bank | $20 | $5 | IA, SD | None | Review |
| Fulda Area CU | $20 | $10 | MN | None | Review |
| Greater Community Bank | $10 | $10 | GA | None | Review |
| Greater Kentucky Credit Union | $20 | $10 | KY | None | Review |
| Greater Nevada Credit Union | $20 | $10 | NV | None | Review |
| Harbor Credit Union | $10 | $5 | WI | None | Review |
| HarborLight Credit Union | $20 | $10 | MI | None | Review |
| Hawaii Pacific FCU | $20 | $10 | HI | None | Review |
| Health Center Credit Union | $20 | $10 | GA | None | Review |
| Heritage Trust Federal Credit Union | $20 | $5 | SC | None | Review |
| Heritage Valley FCU | | $10 | PA | None | Review |
| Hermantown Federal Credit Union | $20 | $5 | MN, WI | None | Review |
| Homefield Credit Union | $20 | $6 | MA | None | Review |
| Honolulu Federal Credit Union | $20 | $10 | HI | None | Review |
| Horizon Federal Credit Union | $15 | $5 | PA | None | Review |
| IH Credit Union | $25 | $7 | OH | None | Review |
| Industrial Bank | $20 | $7.50 | DC, MD | None | Review |
| Inspire Federal Credit Union | $10 | $5 | PA | None | Review |
| Interra Credit Union | $20 | $5 | IN | None | Review |
| Iowa State Bank | $25 | $5 | IA | None | Review |
| Kauai Community FCU | $25 | $10 | HI | None | Review |
| Kemba Credit Union | $25 | $5 | OH, KY, IN | None | Review |
| Kennebec Federal Savings | $10 | $5 | ME | None | Review |
| Kern FCU | $25 | $5 | CA | None | Review |
| Kiosk Credit Union | $9.99 | $9.99 | CT | None | Review |
| Lampco Federal Credit Union | $20 | $10 | IN | None | Review |
| Lanco Federal Credit Union | $20 | $7.50 | PA | None | Review |
| Lee Bank | $25 | $5 | MA | None | Review |
| Leominster Credit Union | $25 | $10 | MA | None | Review |
| Liberty First Credit Union | $10 | $5 | NE | None | Review |
| Life Credit Union | $20 | $5 | TN | None | Review |
| Lone Star Capital Bank | $20 | $5 | TX | None | Review |
| Magnolia Federal Credit Union | $10 | $7 | MS | None | Review |
| Maine Savings Federal Credit | | $7 | ME | None | Review |
| Manasquan Bank | $10 | $12 | NJ | None | Review |
| Maple City Savings Bank | $20 | $5 | NY | None | Review |
| Marine Federal Credit Union | $9.99 | $5.85 | NC, SC, VA | None | Review |
| Marshall Community Credit Union | $10 | $10 | MI | None | Review |
| MCT Credit Union | $15 | $7.50 | TX | None | Review |
| Middlesex Healthcare FCU | $9.99 | $9.99 | CT | None | Review |
| Members Exchange Credit Union | $10 | $5 | MS | None | Review |
| Mifflin County Savings Bank | $20 | $5 | PA | None | Review |
| Millstream Area Credit Union | $10 | $5 | OH | None | Review |
| Minnco Credit Union | $9.95 | $4.95 | MN | None | Review |
| Miramar FCU | $25 | $10 | CA | None | Review |
| Money One FCU | $25 | $10 | MD | None | Review |
| Murphy Wall State Bank and Trust Company | $5 | $6 | IL | None | Review |
| Mutual Bank | $15 | $10 | MA | None | Review |
| My Community Federal Credit Union | | $10 | TX | None | Review |
| Neighborhood Credit Union | $25 | $5 | TX | None | Review |
| New Horizons Credit Union | $10 | $10 | AL | None | Review |
| New Orleans Firemen's Federal Credit Union | $20 | $10 | LA | None | Review |
| NobleBank & Trust | $20 | $5 | AL | None | Review |
| NorStates Bank | $9.95 | $4.95 | IL | None | Review |
| NorthCountry Federal Credit Union | $30 | $5 | VT | None | Review |
| Ocean Communities FCU | $30 | $10 | ME | None | Review |
| Old Missouri Bank | $10 | $10 | MO | None | Review |
| Old West FCU | $20 | $10 | OR | None | Review |
| Park City Credit Union | $10 | $5 | WI | None | Review |
| Park State Bank | $20 | $5 | MN | None | Review |
| Partners Financial FCU | $25 | $5 | VA | None | Review |
| Pelican State CU | $25 | $5 | LA | None | Review |
| People Driven Credit Union | $20 | $10 | MI | None | Review |
| Peoples Bank | $10 | $5 | LA | None | Review |
| Peoples Exchange Bank | $20 | $10 | KY | None | Review |
| Philadelphia FCU | $15 | $10 | PA | None | Review |
| Pioneer Bank | $10 | $5 | MN | None | Review |
| Pioneer Federal Credit Union | | $10 | ID | None | Review |
| Plains Commerce Bank | $20 | $8 | ND, SD | None | Review |
| PrimeSouth Bank | $25 | $12 | GA | None | Review |
| PriorityOne Bank | $15 | $10 | MS | None | Review |
| Progressive Savings Bank | $10 | $5 | TN | None | Review |
| PCSB | $25 | $5 | IA | None | Review |
| Quoin Financial Bank | $10 | $5 | SD | None | Review |
| Raritan Bay FCU | $30 | $10 | NJ | None | Review |
| Roundbank | $20 | $10 | MN | None | Review |
| Richwood Bank | $15 | $5 | OH | None | Review |
| Riverbank & Trust | $20 | $5 | AL | None | Review |
| Sacramento Credit Union | $9.99 | $9.99 | CT | None | Review |
| Seasons Federal Credit Union | $9.99 | $9.99 | CA | None | Review |
| Security Bank | $10 | $10 | TX | None | Review |
| Southbridge Savings Bank | $4.95 | $4.95 | MA | None | Review |
| Southern Bank | $9.90 | $9.90 | AR, MO | None | Review |
| South Florida FCU | $10 | $5 | FL | None | Review |
| Southwest Louisiana CU | $25 | $5 | LA | None | Review |
| South Side Bank | $10 | $10 | IL | None | Review |
| Spirit of Alaska | $15 | $5 | AK | None | Review |
| Spokane Federal Credit Union | $20 | $10 | WA | None | Review |
| St. Helens CCU | | $5 | OR | None | Review |
| Standing Stone Bank | $20 | $5 | OH | None | Review |
| State Bank of Whittington | $10 | $5 | IL | None | Review |
| State Street Bank | | $5 | IL | None | Review |
| State Employees Credit Union | $10 | $5 | NM | None | Review |
| Sun Federal Credit Union | $20 | $8 | OH, PA | None | Review |
| Sunrise Banks | $10 | $5 | MN | None | Review |
| Synergy Bank | $10 | $6 | LA | None | Review |
| Telcoe Federal Credit Union | $20 | $5 | AR | None | Review |
| The Tennessee Credit Union | $10 | $5 | TN | None | Review |
| Tri-County Bank | $10 | $7.50 | NE | None | Review |
| TS Bank | $15 | $10 | IA | None | Review |
| Ulster Federal Credit Union | $10 | $5 | NY | None | Review |
| UNCLE Credit Union | $20 | $10 | CA | None | Review |
| United Bank | $10 | $10 | AR | None | Review |
| University Credit Union | $25 | $10 | ME | None | Review |
| Valley First Credit Union | $10 | $5 | CA | None | Review |
| Valor Credit Union | $10 | $5 | PA | None | Review |
| Wasatch Peaks Credit Union | $20 | $5 | UT | None | Review |
| Washington Financial Bank | $20 | $5 | PA | None | Review |
| Washington Savings Bank | $10 | $10 | IL | None | Review |
| Waterbury CT Teachers Federal Credit Union | $20 | $5 | CT | None | Review |
| Weokie | $30 | $7 | OK | None | Review |
| Westside State Bank | $20 | $10 | IA | None | Review |
| Western Rockies Federal Credit Union | $20 | $10 | CO | None | Review |
| Williamstown Bank | $10 | $5 | WV | None | Review |
| Wilson Bank & Trust | $10 | $5 | TN | None | Review |
| Xcel Federal Credit Union | $20 | $8 | NJ | None | Review |
| Zia Credit Union | $25 | $10 | NM | None | Review |
Chase Sapphire Preferred® Card offers the chance to earn 50,000 bonus points after you spend $4,000 on purchases in the first 3 months from account opening. That's $625 toward travel when you redeem through Chase Ultimate Rewards®. You can earn an additional 5,000 bonus points after you add the first authorized user and make a purchase in the first 3 months from account opening. Earn 2X points on travel and dining at restaurants & 1 point per dollar spent on all other purchases worldwide. Your points go far since you get 20% off travel when redeemed thru Ultimate Rewards. All Chase Sapphire Preferred cardholders enjoy travel benefits and a direct access to a live adviser 24 hours a day. No foreign transaction fees, plus Chip and Signature enabled for international travel. There is an introductory annual fee of $0 the first year, then $95. Apply Now---

Chase Sapphire Preferred Review