While American Express is an advertising partner of HustlerMoneyBlog, the opinions and beliefs in this article are the author's alone and have not been reviewed, approved, or otherwise endorsed by the issuer.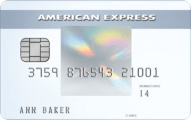 The Amex EveryDay® Credit Card from American Express is a no annual fee card that continuously rewards modest spenders by first offering the chance to earn a welcome bonus as you sign on and then every time you use your card and also every month upon meeting simple requirements. It's especially fantastic for those who typically shop at supermarkets or grocery stores and look forward to celebrating with a well-deserved vacation or purchase covered by earned Membership Reward points of course.
10,000 Welcome Bonus & 20% Extra Monthly
The Amex EveryDay® Credit Card from American Express offers on-going rewards and bonuses that makes it such as crowd-pleaser. With the potential to earn as much as 2.4 points on purchases made at supermarkets and 1.2 points elsewhere, it's a substantial rewards rate for a card that has no annual fee.
10,000 Welcome Points – Earn 10,000 Membership Rewards points after making $1,000 in purchases within the first 3 months of card membership.
2 Points – Earn 2 points 

at US supermarkets on up to $6,000 per year in purchases, then 1 point after. Earn 

1 points on all other purchases. If you use your card to book travel through AmexTravel.com, you will earn 2 points and frequent flyer miles with airlines booked. Additionally, American Express has partnered with Uber to earn you 2 points when you use your card for Uber car services.
20% Extra Points – Earn 20% extra points on your purchases when you use your card 20 or more times in a billing period. Meeting the 20 transactions each month should be fairly easy. You can track your spending and number of transactions by downloading and using the AmEx Mobil App. If you're struggling to meet the minimum of 20 transactions to receive the 20% extra bonus points, try completing a single transaction with your card for each item you buy at the supermarket self check-out to avoid over spending.
Flexible Reward Redemption
The Amex EveryDay® Credit Card from American Express earns you points towards the Membership Rewards Program which is sought-after for its flexibility. There are various options for redemption, however, the value of your points will fluctuate with each option.
Transfer to Partners – Membership Rewards points earned with your Amex EveryDay card can be transferred to 17 airline partners and 4 hotel partners mostly at a 1 to 1 ratio for airfare and seat upgrades or hotel night stays. Each point can be worth at least 1 cent per point and as much as 2 cents per point. Transferring your Membership Rewards points will give you the most value but may take some planning and research to maximize on value.
Travel – Use your points to book flights through AmexTravel.com. Each points is worth 1 cent each, therefore it's a great way to redeem your points. Hotels can also be redeemed with points through AmexTravel.com but will have less value per point at $.008.
Gift Cards – Redeem your points for dining, entertainment, and retail gift cards which are valued at 1 cent per point or more. However, steer clear from redeeming for travel gift cards and American Express gift cards as the value can be well below 1 cent per point.
Uber –  Another benefit from American Express's partnership with Uber is the ability to redeem points for Uber car services at a value of 1 cent per point or 100 points for every dollar. For instance, a $50 Uber ride will cost 5,000 Membership Reward points.
More Options – More point redemption options include statement credits, merchandise, and even for Amazon purchases. However, these option's point value will dip below 1 cent per point and may not be as beneficial.
No Annual Fee & 0% Intro APR
The Amex EveryDay® Credit Card from American Express includes outstanding benefits beyond its excellent rewards program. As a new member and every year that you have your card, it will save you money and give you added protection as you travel and shop.
No Annual Fee – When a card does not charge an annual fee, all rewards and benefits can be free if you pay your monthly balances in full. It's an unbelievable deal specifically because of the 10,000 welcome bonus points and the additional 20% monthly bonus.
0% Intro APR – Receive 0% introductory APR on purchases and balance transfers for 12 months which will allow you to save money yet still earn rewards at the same time.
Travel Benefits – Get extra coverage when traveling with car rental loss and damage insurance and travel accident insurance. Help is also available when you need it with Global Assist Hotline and roadside assistance.
Purchase Benefits – Purchases made with your card will receive extended warranty, purchase protection, and return protection. Additionally, the Amex Everyday card includes programs like Amex Offers and complimentary Shoprunner with free 2-day shipping that will help you save as you shop.
Groceries for Free Travel & Rewards
The Amex EveryDay® Credit Card from American Express is the only no annual fee card from American Express that offers a welcome bonus and on-going monthly bonuses with the Membership Rewards program. It also includes the perfect balance of benefits to compliment its stellar rewards. The Amex EveryDay Credit Card from American Express makes getting groceries and necessities for free travel and rewards a real and quite easy possibility. Review our complete list of credit card bonus promotions.