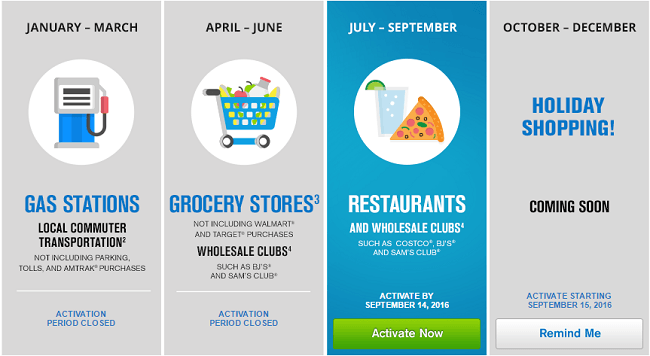 Owners of the Chase Freedom® will be happy to hear that you can now activate its 5% cash back categories for the third quarter of 2016. When you activate this bonus, you can earn x5 the points you'll originally earn for up to $1,500 in purchase for a maximum of 7,500 points or $75 cash back. Continue earning 5%, up to $1,500 in combined purchases, at restaurants and wholesale clubs. You will still earn 1% on everything else. Simply enter your name, last 4 digits of your card, and zip code to activate for absolutely free!4
Click Here for 5% Cash Back Registration
If you don't have the Chase Freedom® then you might want to hear about its fantastic signup bonus of $150 after spending $500 during the first three months of membership. Keep in mind Chase recently changed their card application rules. If you opened more then 5 credit cards from any bank in the last 24 months, you'll most likely be unapproved. This card also offers 15 months of introductory 0% APR on purchases and balance transfers and no annual fee. Check our complete review of the card for all its benefits.
Chase Freedom 2016 Third Quarter 5% Cash Back Categories
Restaurants

Wholesale Clubs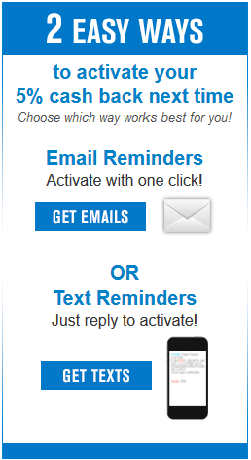 Restaurants
Here's a full list of restaurants eligible for the 5x category such as Chipotle, Starbucks, Chick-Fil-A, Dunkin' Donuts, McDonalds's, Burger King, Applebee's, Red Robin, Ruby Tuesday, TGI, Domino's, etc. Other restaurants may work depending on how their payments is coded.
Wholesale Clubs
The four major wholesale clubs eligible for the 5% category include Costco, Sam's Club, BJ's, and Texas Jasmine(others may be included). This applies to both online purchases and in-store purchases including buying membership at the member services desk.
Important Note: You cannot get 5X back on gas and fuel or other specialty services such as travel, insurance, cell phone and home improvement from the Wholesale clubs. However I recommend to buy their store gift card at the regular checkout and use those to buy gas, travel, etc. to earn 5X back on everything.
Bottom Line:
For those of you with chase freedom cards, take advantage of this offer before it's too late.If you don't have the Freedom card, sign up ASAP for the Chase Freedom® due to being a limited time offer. This is a fee-free card, so you don't need to worry to cancel it anytime. Enroll now at ChaseBonus.com via text or email reminders. Take advantage of these opportunities to earn 5% cash back on select purchases with your Chase Freedom®.

Chase Freedom® offers a $150 cash back bonus for new cardholders that spend $500 during the first three months of membership. You'll earn an additional $25 bonus after you add your first authorized user and make a purchase within this same 3-month period. New members will also get 0% introductory APR on balance transfers and purchases for 15 months. This great cash rewards credit card is designed for those of you who want to earn easy cash back bonuses in return for your spending. From April 1st – June 30th, get the chance to continue earning 5%, up to $1,500 in combined purchases, at grocery stores and wholesale clubs. For all other purchases, you'll earn unlimited 1% cash back. Best of all, there is no annual membership fee. Apply Now---

Chase Freedom $150 Bonus Review