While Citi is an advertising partner of HustlerMoneyBlog, the opinions and beliefs in this article are those of the author alone, who makes every effort to ensure the accuracy of the information. Learn more on our Advertising Policy.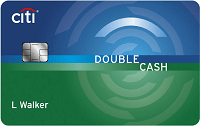 The Citi® Double Cash Card – 18 month BT offer has one of the best critic and consumer reviews for cash back cards and we too would have to agree. Citi came up with an innovative breakthrough with a card that first rewards you when you use it to make purchases and rewards you again when you pay your balance. It's so simple yet genius.
Unlimited Double Cash Back
The Citi® Double Cash Card – 18 month BT offer presents an unprecedented and unlimited 1% + 1% cash back rewards with a two-step twist.
Earn 1% when you make purchases – There are no caps or limits on how much cash back you can earn. There are no category restrictions and no activation required at any time. You even earn cash back when you use your card at discount stores like Target and Walmart. You also don't need to open a checking, savings, or any account with Citi.
Earn another 1% when you make payments – Make each monthly payment in full or at least the required minimum payment due on each billing statement and receive another 1% cash back on the paid balance that month. Your payments must be on time. The Purchase Tracker will monitor your purchases that will be eligible for the additional 1% cash back when payments are made.
No Bonus?!..but No Annual Fee
At first glance, not offering a bonus seems like a bummer but you may quickly get over it with all the amazing benefits this card offers. No bonus coupled with no annual fee, the Citi® Double Cash Card – 18 month BT offer is intended to be a primary card or the one card that you'll use daily and keep for awhile. When compared with other cash back cards that do offer a sign-on bonus, Citi Double Cash card will start to edge out the competition after a year or possibly sooner depending on your spending with it's consistent and unlimited 1% + 1% cash back. The Citi Double Cash card is not intended for those who look for big sign-on bonuses and move on after a year once the annual fee kicks in.
No Categories, No Restrictions, No Limits
The Citi® Double Cash Card – 18 month BT offer is simple. There are no rotating categories, no purchase restrictions, and no caps or limits on how much cash back rewards you can earn. No worries on reaching a quarterly or annual spending limit. You'll also save some time since you won't need to keep up and log on to activate rotating categories or have to take a few minutes at checkout to think about which credit card to use. If you enjoy the challenge of maximizing on reward opportunities from a portfolio of credit cards, the Citi Double Cash Card may not appeal to you.
0% Introductory APR
The Citi® Double Cash Card – 18 month BT offer has 0$ introductory APR on balance transfers for 18 months. Not having to pay interest for an entire year and a half will help save tons of money and may be more valuable than a sign-on bonus. There is a balance transfer fee of $5 or 3% of the amount of each transfer, whichever is greater. Also avoid using this card when traveling outside the U.S. since there is a foreign transaction fee of 3% or a minimum of $5.
Best to Pay in Full
The Citi® Double Cash Card – 18 month BT offer gives you an incentive to pay in full or make more than the minimum due to earn the extra 1% sooner. Paying in full will guarantee that you'll get the additional 1% and not have to watch your rewards dwindle because you're having to pay interest which does happen quickly. You can redeem your rewards starting at $25 for a check, statement credit to your card account, gift cards, or a credit to a Citi savings or checking account or even a non-Citi account that you have paid your card account two or more times. Redeeming for a statement credit will lower your outstanding account balance or remaining amount to be paid by 1%, consequently making your cash back percentage potential slightly less than 2%, 1.99% to be exact.
Features that Sweeten the Pot
Citi® Double Cash Card – 18 month BT offer unlimited 1% cash back when you buy and another 1% cash back when you pay is pretty extraordinary but Citi throws in features that absolutely sweeten the pot.
Late Fee Pass – Get a pass on your first late fee. Set up automatic payments to prevent paying penalties and rate increases which will overtake your cash back reward earnings.
Flexible Billing – Align your due date with your finances to set yourself up for success and rewards by paying on time and in full.
Citi Private Pass – Never miss a concert, show, or game with access to presale or preferred tickets and VIP packages.
Citi Price Rewind – Register a purchased item to monitor the price for 60 days. If a lower price is located, receive the difference up to $300 per item or $1,200 each year. The Citi Double Cash card also comes with purchase protection, extended warranty, $0 liability and fraud protection.
Travel Protection – Although it's not recommended to use this card outside the U.S. because of a foreign transaction fee, book your trip with your card and get trip cancellation and interruption protection, travel accident and car rental insurance.
Use, Earn, Pay, Earn, Repeat
The Citi® Double Cash Card – 18 month BT offer cash back reward structure is refreshing and unlike any card out there. Receive unlimited double cash back without having to put too much effort into it. It's a valuable everyday card that consistently rewards as long as you have it. Just simply use your card to earn rewards then pay your monthly balance to earn more rewards. Review our complete list for more credit card bonus promotions.
Disclaimer: These responses are not provided or commissioned by the bank advertiser. Responses have not been reviewed, approved or otherwise endorsed by the bank advertiser. It is not the bank advertiser's responsibility to ensure all posts and/or questions are answered.