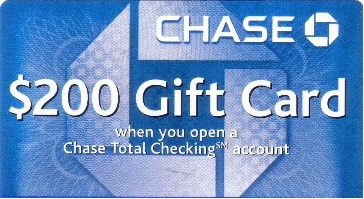 For those looking to maximize on opening a Chase Total Checking account with NO DIRECT DEPOSIT, you can now get $200 Cash Gift Card Bonus by buying the coupon from eBay. Typically, you can do the "Buy It Now" option for around $20 or less. Once you have the unique coupon code, you can redeem at any Chase branch or online at www.chase.com/checking. There are people selling the $200 Chase Total Checking coupon codes that are valid until 12/6/2013. If you are looking for a free $200 Chase coupon at no cost, check out more Chase Coupons on our exclusive list!
Make sure you read the seller's posts carefully since you want the Total Checking Coupon only! Total checking coupons have easier requirements to get the bonus money and keep the account free.
Compare to the Chase $150 bonus(get it for free), the biggest advantage with the Chase $200 Bonus Code from eBay is the no direct deposit requirement.  Minus the $20 cost of attaining the coupon code, you will be profiting $180 instead of $150. The eBay coupon will be an actual 100% authentic coupon, so make sure you buy from from a seller with high positive feedback.
Terms and Conditions:
To qualify for the bonus you must open a new Chase Checking account with a $100 minimum deposit of new money (money not currently held by Chase or its affiliates) within 60 days of account opening. Bonus will be automatically deposited into your new account within 10 business days after the $100 minimum deposit is made. Bonus is not considered part of the minimum opening deposit.
As with most Chase checking accounts, they have have monthly Service Fees which start at $10-$15 per month, depending on the market location. Here are some examples of ways to avoid these fees:
Have monthly direct deposits of $500 or more deposited into this account
Keep a minimum daily balance of $1,500 or more in your checking account
Keep an average balance of $5,000 or more in qualifying accounts with Chase
Limit one checking account-related bonus per customer per calendar year. Offer not available on account conversions or in combination with any other offer. Checking account must remain open for a minimum of six months or the bonus will be debited from the account at closing. Account is subject to approval. Customers opening a Chase Total Checking Account are eligible for this offer (excludes High School, College, and Access Checking Accounts).

Citi® Hilton HHonors™ Visa Signature® Card offers 40,000 Hilton HHonors Bonus Points (worth up to $400) after spending $1,000 within 4 months of account opening. The Hilton HHonors points can be redeemed for free nights in the Hilton HHonors network, experience rewards, car rentals, or airline miles at participating airline partners. The 40,000 HHonors Points can be redeemed for 5 free nights at a category 1 hotel or fewer nights at a higher category hotel. There is no annual Fee!

Full Review