While American Express is an advertising partner of HustlerMoneyBlog, the opinions and beliefs in this article are the author's alone and have not been reviewed, approved, or otherwise endorsed by the issuer.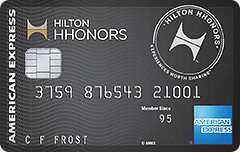 The Hilton HonorsTM Surpass® Card from American Express is offering an increased sign-up bonus of 100,000 Hilton Honors points after spending $3,000 in purchases within the first three months of card membership. This offer ends May 31, 2017. You can enjoy the generous sign up bonus plus earn 12X bonus points for every $1 spent on eligible purchases charged on your card directly with participating Hilton portfolio hotels and resorts, 6X bonus points for every $1 spent at U.S. restaurants, U.S. supermarkets, and U.S. gas stations, and 3X bonus points for all other eligible purchase made on the card. Unlike the regular Hilton Honors card, you'll automatically receive Gold status where you can earn 25% bonus points from base points. With all of these great benefits, you'll enjoy a $75 low annual fee.
Amex Hilton Honors Surpass Card Features:
Limited Time Offer: Earn 100,000 Hilton Honors Bonus Points after you spend $3,000 in purchases on the Card within your first 3 months. Offer Ends 5/31/17.
Earn a free weekend night on your anniversary date of Card approval. Some hotels may have mandatory services and resort charges. Terms Apply.
Earn 12X Hilton Honors Bonus Points for each dollar of eligible purchases charged on your Card directly with a participating hotel or resort within the Hilton Portfolio.
Earn 6X Hilton Honors Bonus Points for each dollar of eligible purchases on your Card at U.S. restaurants, U.S. supermarkets, and U.S. gas stations.
Earn 3X Hilton Honors Bonus Points for all other eligible purchases on your Card. Terms and limitations apply.
As a Hilton HonorsTM Surpass® Card Member you'll receive Hilton Honors Gold status.
Spend $40,000 on eligible purchases on your Card in a calendar year and you can earn Hilton Honors Diamond status through the end of the next calendar year.
Terms Apply.
Hilton Honors Automatic Elite Status:
With the Hilton HonorsTM Surpass® Card from American Express you can easily obtain automatic Gold status in the Hilton Honors program. Hilton Honors recently had a drastic change to their honors program, the most notable change is the name without the additional H. The Hilton elite hotel perks include free upgrades, free breakfast and lounge access if available. The additional elite status perks include 25% bonus points, free internet, late checkout, elite-only rates and so much more! As long as you have this card, you will have Gold status for life.
If you enjoy the elite status life style you can upgrade to Diamond status by spending $40,000 a year with this card. Yes, it is quite a hefty spend but if you're part of the heavy spending club this is definitely a plus for you. As a Diamond Status member you get 50% bonus points and you will receive a 48-hour room guarantee and complimentary premium internet. You not only get these lavish perks but you also get the Gold status benefits as well! You can become a member of the Diamond Status by spending $40k a year or completing 30 stays/60 nights.
Hilton Honors Priority Pass Membership: 
The Priority Pass Membership is a feature that is given automatically to Hilton HonorsTM Surpass® Card from American Express cardholders. This membership is valued at $99 a year which gives people access to over 700 participating airport lounges worldwide! This means if you've faced a long layover or your connecting flight was delayed you will have a sweet spot to hang out and relax without the hustle and bustle of the airport sounds right next to your ear. These lounges provides people amenities such as free WiFi, snacks and beverages. In some lounges you also get access to showers! But note that although you've received automatic membership to Priority Pass every time you enter a lounge, your Hilton Honors Surpass card will be charged a $27 each visit and $27 per guest.
Hilton Honors Surpass Additional Benefits:
On top of the amazing features that the Hilton HonorsTM Surpass® Card from American Express already offers you get additional benefits that will help you along the way. Such as travel benefits, shopping and entertainment benefits, and helpful services.
Car Rental Loss and Damage Insurance: When you use your card to reserve and pay for the entire eligible vehicle rental and you decline the collision damange waiver at the rental car counter – you can rest assure that you are covered if the car is damaged or stolen. This additional travel benefit provides secondary coverage and does not include liability coverage.
Baggage Insurance Plan: Traveling already has tons of stress and unknowns but rest easy with the amazing coverage offered by the Baggage Insurance Plan that you'll receive with this great card. The insurance plan coverage can be provided for up to $1,250 for carry-on baggage and up to $500 for checked baggage. For New York State residents, there is a $10,000 aggregate maximum limit for all Covered Persons per Covered Trip.
Travel Accident Insurance: Along with this card, you can receive coverage for accidental death or dismemberment while traveling on a common carrier (i.e. plane, train, ship or bus) when your entire fare was paid with your eligible Hilton Honors Surpass card. No one plans for accidents when traveling but be prepared with this amazing benefit in your wallet.
Extended Warranty: Receive extended warranty which is the length of your normal warranty matched up to an additional year when you use your eligible card to purchase the item with.
Entertainment Access: You can exclusive access to ticket pre-sales and card member only events in a city near you.
Bottom Line:
The Hilton HonorsTM Surpass® Card from American Express provides many great benefits for those who frequently stay in Hilton Hotels & Resorts. Not only will you be earning the 100,000 Hilton Honors bonus points, but you'll be able to receive bonus points for making purchases on nearly everything; purchases made from eligible Hilton hotels, U.S. restaurants, U.S. grocery stores, and U.S. gas stations give you even more bonus points. Along with these bonuses, you'll also be able to earn an online booking bonus of 500 points each time you reserve a room using your card. Even having great benefits from being automatically considered Gold Status, you'll be able to fast track your way into Diamond Status by making $40,000 worth of eligible purchases in a calendar year. Be sure to take advantage of this great opportunity before May 31, 2017. If this credit card bonus wasn't for you, then be sure to check out our full list of Credit Card Bonuses.