While Citi is an advertising partner of HustlerMoneyBlog, the opinions and beliefs in this article are those of the author alone, who makes every effort to ensure the accuracy of the information. Learn more on our Advertising Policy.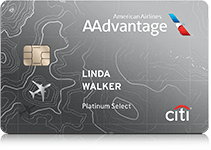 The Citi/AAdvantage Platinum Select World Elite MasterCard is specially designed for those who frequently fly American Airlines and desire a swift, comfortable, and pleasant traveling experience. More than just a miles card, it's jam-packed with great benefits that may be more of a reason to sign up. Add a gigantic sign-on bonus and the Citi/AAdvantage Platinum Select MasterCard will take you to incredible destinations around the world.

50,000 AAdvantage Bonus Miles & More
The Citi/AAdvantage Platinum Select World Elite MasterCard is offering the chance to earn 50,000 American Airlines AAdvantage bonus miles after spending $3,000 in purchases within the first 3 months of account opening. You can redeem for at least 1 domestic roundtrip MileSAAver award flights.
Earn 2 AAdvantage Miles for every $1 spent on eligible American Airlines purchases.
Earn 1 AAdvantage Mile for every $1 spent on all other purchases.
Earn 10% of your redeemed AAdvantage miles back up to 10,000 miles each calendar year. After redeeming your 30,000 bonus miles, you will receive 3,000 back as part of this rebate bonus program.
Earn more miles with the AAdvantage Program and also with American Eagle and any oneworld alliance partners.
There isn't a limit on how many AAdvantage miles you can earn. AAnytime award flights have access to preferred seats and have no blackout dates. AAnytime seats start at 20,000 miles each whereas MileSAAver seats start at 12,500. If you have a flexible schedule, your AAdvantage miles will have more value with MileSAAver and MileSAAver Off Peak seats. They can also be used to upgrade your seats to first or business class on American Airlines, British Airways, and Iberia flights for yourself or anyone you choose.
Exclusive Benefits
Citi/AAdvantage Platinum Select World Elite MasterCard's exclusive benefits makes it hard to not consider especially if you often fly American Airlines. Not only will you appreciate this card, so will your traveling companions.
Get free first checked bag on American Airlines domestic flights for you and up to four companions you're traveling with.
Get Group 1 boarding on American Airlines domestic flights. Up to four of your traveling companion also receive this priority boarding privilege.
Save 25% on in–flight food, beverage, and headset purchases when you use your card.
There are no foreign transaction fees on purchases and the $95 annual fee is waived for the first 12 months.
Travel benefits include lost luggage, travel accident insurance, trip cancellation and trip interruption coverages. Shop with confidence with purchase protection, extended warranty, Citi Price Rewind, $0 liability and chip technology.
Avoid Costly Fees
Citi/AAdvantage Platinum Select World Elite MasterCard is an excellent airline rewards card but it does come with interest rates and fees. Always, if possible, pay your monthly balance in full and on time especially on reward cards since the interest rates, fees, and penalties tend to be higher. Understand that all miles, benefits, perks, and rewards are negated if you're paying late fees or high interest on a revolving balance. Avoid these costly fees and protect your credit by setting up automatic payments. Credit cards are beneficial and valuable if you abide by the rules. If you're unable to consistently pay your monthly balance in full, you may not be ready for a rewards credit card. Consider other cards that offer a 0% introductory APR on purchase and balance transfers which may be more suited for you.
More Reason to Travel
Citi/AAdvantage Platinum Select World Elite MasterCard gives loyal flyers more reason to travel with American Airlines and it's nearly 1,000 destinations worldwide. All the considerable ways to earn rewards and rebates will allow you to travel more while the excellent benefits will save you(and a few friends and family) time and money. With a generous bonus bonus offer, now is the best time to sign up and start planning where you would want to go first. Review our complete list for more credit card bonus promotions.

Disclaimer: These responses are not provided or commissioned by the bank advertiser. Responses have not been reviewed, approved or otherwise endorsed by the bank advertiser. It is not the bank advertiser's responsibility to ensure all posts and/or questions are answered.