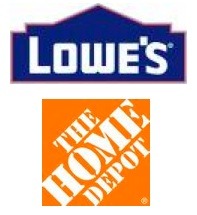 In times of financial difficulties, it is important to find ways on how to extend the purchasing power of your dollars. Even without the struggle associated with financial troubles, it is prudent to save money for the rainy days. A good strategy is to choose discount stores like Lowe's or Home Depot. There are numerous ways to save money at Lowe's/Home Depot. Consider the following combination of strategies for up to 50% Off at Lowe's or Home Depot:
Use a 2% Cash Back Credit Card
Buy gift cards at a discount
Use a 10% Mover's Coupon
Order online via Cash Back Portal, Pickup in-store, Exchange Store Credit
Do 110% Price Match
Step 1: Use CashBack Credit Card
Chase Freedom® offers a $150 cash back bonus for new cardholders that spend $500 during the first three months of membership. You'll earn an additional $25 bonus after you add your first authorized user and make a purchase within this same 3-month period. New members will also get 0% introductory APR on balance transfers and purchases for 15 months. This great cash rewards credit card is designed for those of you who want to earn easy cash back bonuses in return for your spending. Earn 5% cash back from Chase on up to $1,500 in combined purchases from July 1 – September 30, 2016. Earn unlimited 1% cash back on all other purchases. Best of all, there is no annual membership fee. Apply Now—

Chase Freedom $150 Bonus Review

SimplyCash® Plus Business Credit Card from American Express offers $250 statement credit after spending $5,000 within the first 6 months of card membership. It's similar to the SimplyCash Business Credit Card from American Express but with increased spending limits of $50,000 in the 5% and 3% cash back reward categories and an extra option to choose from in the customizable 3% category. It appeals to businesses with more expenses where more cash back rewards can be earned. Also included are fantastic exclusive American Express benefits and no annual fee. Apply Now—

Amex SimplyCash Plus Review



Step 2: Buy Gift Cards + Cash Back Shopping Portal
You will need to sign up for TopCashBack(a cash back shopping portal). In your TopCashBack account, search for Cardpool in order to get 2% cash back. Next, you will now buy Lowe's or Home Depot gift card at Cardpool at a 8.5% discount. Sometimes Lowe's gift cards run out, check out other places like Raise.com which selling Lowe's at 10.6% discount. Make sure you pay your gift card order with the 2% Barclays Arrival Card.
Here's the MATH: TopCashBack 2% + Carpool 8.5% or Raise 10.6% + Barclays Arrival Card 2.2% = up to 15% Cash Back for buying Lowe's or Home Depot Gift Cards. That is your first step and it could apply to almost any gift cards for sale. Make sure you have an idea of how much gift cards you want to buy for your items. There are many merchants to buy gift card from to get even a higher saving.
If you don't know how much you want to buy, you can use your mobile phone to buy Lowe's or Home Depot's egift card right before you hit the cash register at the store. I usually buy just a little bit less than my total will be. Hence, instant 10% off!
Step 3: Use a 10% Mover's Coupon
Fill out online for a Lowe's 10% off coupon. Copy and paste below:
http://www.lowes.com/cd_Coupon+Registration_253641591_
Here's a fun fact: Home Depot would gladly take Lowe's 10% Off Coupon. Hence, use the 10% off coupon at Lowe's or Home Depot!
Buy Coupons on eBay: You could always buy the 10% off coupons on eBay. The 20% Home Depot coupons are fake due to the editing of the expiration date. They tell you to use it at Lowe's since some stores don't know it. The $10 Off $50 Purchases Coupons are legit. I would buy this if you know your purchases will be around $50, hence representing a 20% savings.
Back then, you can go visit your local US Post Office, get in line, and simply ask for a Mover's Guide Package. There is always a 10% off Lowe's coupon. I think they change it now whereas you get a link to apply online. Someone could help me by confirming this.
These coupons offer a nice discount that stacks with nearly everything. At Lowe's or Home Depot Cashier, simply whip out your 10% off coupon and then pay your item(s) with you gift cards that you bought up to 15% off. Your total discount, at minimum, will be at least 20% OFF each time.
Step 4: Order online via Cash Back Portal, Pickup in-store, Exchange Store Credit
We all know you lose your cash back for returning items when shopping through Cash Back Portal such as TopCashBack. To Double Dip on this method, you will need to pick up and pay for the item, then go back to the return counter and do an exchange for store credit. The key word is exchange, do not mention a return, or a chargeback on your card. Typically, you want to ballpark and buy 1-2 random items that are in the same total price range to exchange, then execute this strategy to double dip. This method will net you an additional 6% Cash Back from TopCashBack.
Step 5: Do 110% Price Match
This is an advance strategy and will only work with big ticket items. You will need to keep a lookout at the competitor's store such as Sears or HHgreeg when they have big ticket items on sale. Lets say Sears is having a 20% off sale on the same fridge model. You will need to take that ad and ask for 110% pm policy for local competitors. The appliance person will offer to PM but you can insist on 110%. You can use your gift cards here to save an additional 11.5% but they will not let you use the 10% off coupon. Instead, decline and say that you need to think about it and ask for them to save it in the computer with your phone number. You can then pay it later with a different cashier and whip out your 10% coupon then.
Chase Sapphire Preferred® Card offers the chance to earn 50,000 bonus points after you spend $4,000 on purchases in the first 3 months from account opening. That's $625 toward travel when you redeem through Chase Ultimate Rewards®. You can earn an additional 5,000 bonus points after you add the first authorized user and make a purchase in the first 3 months from account opening. Earn 2X points on travel and dining at restaurants & 1 point per dollar spent on all other purchases worldwide. Your points go far since you get 20% off travel when redeemed thru Ultimate Rewards. All Chase Sapphire Preferred cardholders enjoy travel benefits and a direct access to a live adviser 24 hours a day. No foreign transaction fees, plus Chip and Signature enabled for international travel. There is an introductory annual fee of $0 the first year, then $95. Apply Now---

Chase Sapphire Preferred Review