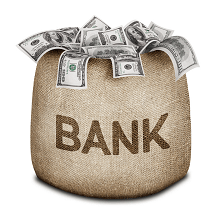 I've been reviewing bank deals since 2006 & helping readers finding all the best bank promotions to take advantage of the sign-up bonuses and high interest rate. One of the most common requirements of a bank bonus is setting up direct deposit. The terms and conditions usually state that Direct Deposit must be an electronic deposit of your paycheck, pension or government benefits (such as Social Security) from your employer or the government. However, banks don't always enforced this rule and knowing what will trigger direct deposit can save a lot of time since changing your paycheck is very frustrating and time consuming. Also, there are many people who don't have the option employer's paycheck or governments benefits. The list below will help readers to meet direct deposit requirement to earn free money from bank promotions.
ACH Transfers: Most if not all bank accounts have Automated Clearing House (ACH) Transfers which is a free way to transfer money between financial institutions. You'll find this method to be the most popular, usually within 2 business days, to do an ACH transfers to meet direct deposit requirement. Other methods include Person2Person payment e.g. Chase Quickpay, PayPal, Amazon Payments, Bluebird, etc.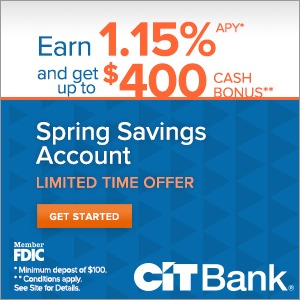 CIT Bank – Enjoy an amazing rate of 1.15% APY plus earn up to $400 Cash Bonus when you open a new Spring Savings Account at CIT Bank by June 30, 2017. To earn a $100 bonus, you must make an initial deposit of $15,000 or more and maintain an average monthly balance of $15,000 for 3 monthly statement cycles. To earn a $250 bonus, deposit $100,000 or more and maintain that for 3 monthly statement cycles. Deposit $300,000 and maintain that for 3 monthly statement cycles and you'll receive a $400 bonus. Apply Now---

CIT Bank Review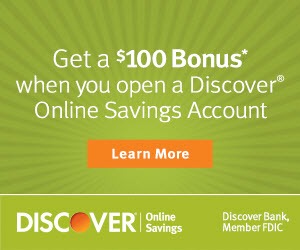 Discover Bank Online Savings Account: Earn $100 Bonus along with high interest rate of 1.01% APY! You must apply through HustlerMoneyBlog.com with promo code HMB217 by 05/31/2017 and make a minimum deposit of $15,000 by 06/15/2017. FDIC-insured, no minimum balance or monthly maintenance fees. Apply Now---

Discover Bank Review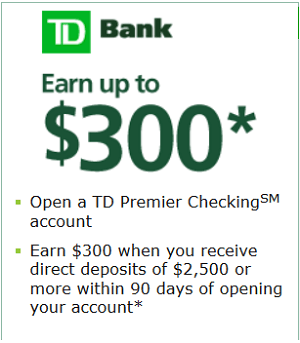 TD Bank offers a $300 bonus when you open a new TD Bank Premier Checking account and set up direct deposit of $2,500 or more within 90 days of account opening. The TD Bank Premier Checking account comes with free Online Banking and Online Bill Pay, free Mobile Banking, free Account Alerts, and free access to 1,300 TD Bank ATMs and branches. Apply Now---

TD Bank Premier Checking Review
Based on the reported experiences of the many consumers online from sites such as FatWallet, FicoForums, Slickdeals, CreditBoards, Flyertalk, etc, we'll put together the most extensive list of Banks(alphabetically) on alternative method of direct deposit to trigger a bank bonus. Click on Review to read more in-depth explanation for each bank bonus such as account type, expiration date, hard or soft pull, credit card funding, geographical restrictions, additional bonus requirements, and early closure fee.
Important: Please help us update our list with your own personal experience by commenting below. If you recently opened a bank account and were able to trigger a direct deposit requirement other than from your employer or the government, let us know by commenting below with the alternative method you used. Thank you.

Disclaimer: We make no promise the information below is 100% correct since banks can change what count as direct deposit often.
What Banks Count As Direct Deposits
| Bank or Credit Union | Alternative Direct Deposit Methods | Review |
| --- | --- | --- |
| Amex Bluebird | Amazon Payment 1 | Review |
| Amex Serve | Paypal 1 | Review |
| Avidia Bank | Capital One 360 ACH 1 | Review |
| Bank of America | Emigrant 1, E*Trade 1, 2, Fidelity 1, 2, HSBC 1, Capital One 360 1, 2, | Review |
| Bank of the West | Emigrant 1, Paypal 1, 2, 3, 4, Capital One 360 1, Schwab ACH 1 | Review |
| BBVA Compass | Capital One 360 1, | Review |
| BMO Harris Bank | Alliant ACH 1, 2, Discover ACH 1, Schwab Transfer 1 | Review |
| Capital One 360 | Alliant 1, ACH 1, Discover 1, Capital One 360 1 | Review |
| Chime | American Express Serve | Review |
| Citibank | ACH 1, 2, Amazon Payment 1, Emigrant Direct 1, Fidelity ACH 1, 2, INGdirect 1, 2, 3 | Review |
| Citizens Bank | ACH 1, 2, Capital One 360 1 | Review |
| Commerce Bank | Paypal 1, ING 1, 2 | Review |
| E*Trade | Capital One 360 1, 2 | Review |
| Fifth Third Bank | USAA ACH 1 | Review |
| Firstmark Credit Union | ACH 1, Alliant ACH 1, Ally ACH 1 | Review |
| First Niagara Bank | Alliant ACH 1, Ally ACH 1, 2, AmEx FSB ACH 1, Bank of America ACH 1, Capital One ACH 1, Capital One 360 ACH 1, 2, 3, 4, Chase ACH 1, 2, HSBC ACH 1, Paypal 1, 2, 3, 4, State Farm ACH 1 | Review |
| First Tennessee Bank | ACH 1 | Review |
| Great Lakes Credit Union | ACH 1, 2, Chase 1 | Review |
| Huntington Bank | Amazon Payment 1, ACH 1, 2, Blue Bird 1, Capital One 1 | Review |
| Key Bank | Ally ACH 1, Capital One 360 1, E*Trade 1, Paypal 1, 2, TD Ameritrade 1 | Review |
| Lake Michigan Credit Union | ACH 1 | Review |
| M&T Bank | ACH 1, ACH trial deposits 1, 2, Capital One ACH trial deposits 1, Chase trial Deposits 1, Citi ACH trial deposits 1, Discover 1, HSBC 1, Paypal 1, 2, Paypal trial deposits 1, PNC test deposits 1 | Review |
| Nationwide Bank | American Express Serve 1, Capital One 360 ACH 1, Fidelity 1, Paypal 1 | Review |
| NorthWest Savings Bank | ACH 1, 2 | Review |
| NuVision Federal Credit Union | Amazon Payments 1, Ameritrade 1, Schwab Brokerage 1 | Review |
| PNC | Ally ACH 1, American Express Serve 1, Paypal 1, 2, 3 | Review |
| Presidential Bank | ACH 1 | Review |
| Principal Bank | Capital One 360 1, HSBC 1, | Review |
| Regions Bank | ACH 1, Capital One 360 1, 2 | Review |
| SchoolsFirst FCU | Capital One 360 1 | Review |
| Security Service Federal Credit Union | Paypal 1 | Review |
| SunTrust | Ally ACH 1, ACH 1, Discover 1, Paypal 1, 2, 3, 4, ING 1 | Review |
| TD Bank | ACH 1 | Review |
| U.S. Bank | ACH 1, Alliant 1 | Review |