For a limited amount of time, Hotwire is having a promotion where you can get up to 5-Star hotel stay starting from $49 if you book now! Availability is extremely limited since 5-star hotels in New York City, Miami and more are highly desirable! From top-rated hotels to last-minute savings on cheap hotel rooms, Hotwire offers thousands of hotel listings each week to choose from you'll get the name of the hotel right after you book, and at a ridiculously low rate. Use this promotion if you plan on visting Las Vegas for a fun trip. Take advantage of this promotion while supplies last!

Hotwire Hotel Promotion:
Promotion: 4 and 5-Start Hotels from $49
Expiration Date:

Book by June 28, 2018
Complete stay between June 26, 2018 to July 8, 2018

Availability: While supplies last.
Terms and Condition: Book now for travel between June 26, 2018 – July 8, 2018. Availability is extremely limited. Sale ends 11:59 pm PST on 6/28/18 or when the supply of discounted rooms is depleted, whichever is first. Sale price is available only at participating Hot Rate hotels, for a maximum of 2 nights, based on double occupancy. Additional guests may result in extra fees. Price does not include taxes or resort fees. Limit one booking per person. We reserve the right to cancel any bookings or discontinue the sale for any reason without notice. Hot Rates are different from published price services. With Hot Rates you enter dates, location and star rating. Exact hotel shown only after booking. All bookings final.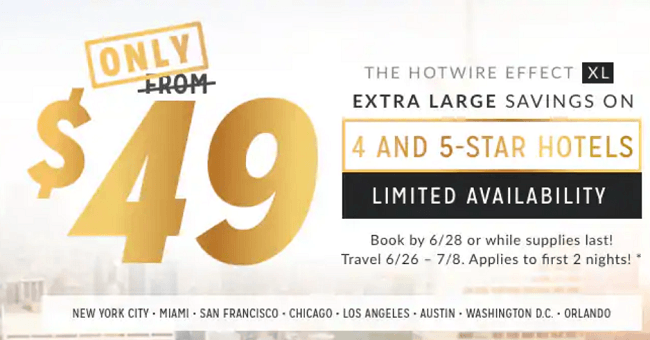 Get Hotwire 4 and 5-Star Hotel Promotion
Head to Hotwire and sign up for a new account if you do not already have an account
Select participating 4 to 5-star hotel on in New York City, Chicago and more
Book your stay between the promotional period from $49
Enjoy your stay!
Bottom Line:
If never been to New York, Los Angeles and more, then this is your calling! Whether it's for work or for fun, take advantage of this 4 to 5-star hotel offer from Hotwire! Prices start from $49 for stay at 4 and 5-star hotels, beat the crowd and book now since everyone will be trying to claim this deal. Find a friend to go to Orlando, Washington D.C. and more during this promotional period and share an adventure you won't forget. For more ways to save money, check out the master list of how to Save Money!