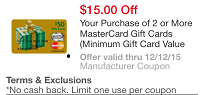 In-store only, Meijer offers $15 Off MasterCard Gift Card Purchase, until December 12, 2015 while supplies last. You will get $15 savings on the purchase of two Mastercard gift cards with a minimum of $25 on each. Limited to one use per coupon, if you have multiple accounts I'd suggest you break up you order into separate purchases. You will find this offer in the Meijer  MPerks app, all you have to do is clip the coupon offer to your app linked to your mperks loyalty account. Then head to your nearest location and make the purchase using the app to scan in the offer at checkout.
Delta SkyMiles® Reserve Business American Express Card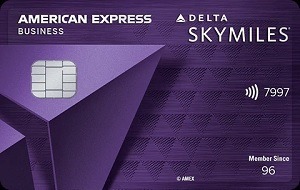 Meijer MasterCard Gift Card Purchase:
Offer: Purchase two (2) MasterCard gift cards with $25 minimum on each and get an instant discount of $15 off when you use your mperks app at check out.
Valid: This offer is good until 12/12/2015 while supplies last.
Terms: Limit one use per coupon. No cash back. Must purchase 2 Mastercards to be eligible for this promotion. Minimum gift card value must be $25 each.
Get $15 Off MasterCard Gift Cards.
Clip: Within the app search for the coupon and clip the offer to you account. Repeat on any other devices and accounts you may have.
Buy: Go to your store and get two $25 MasterCard gift cards. If you have more then one account and want to earn this promotion more then once, make to break up your purchases into separate orders.
Use: For supermarket purchases always pay with your Amex Cash Preferred card, you will get 6% back.
Get: You will instantly get $15 off each order after the cashier applies your mobile coupon via the smartphone app.
Bottom Line:
This Meijer $15 Off MasterCard Gift Card Purchase is a great offer because it not only offsets any purchase fees but it also is a little bit of money maker, that's about $7.50 off each gift card. All while helping you accumulate more credit card rewards! See all of our great Gift Cards Deals!