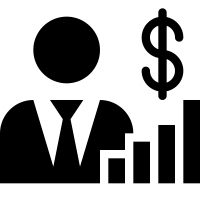 Everyone's approach to climbing the ladder of success in the world of finance, you just need to find your own calling. Of course, there are some secrets that can put some people ahead of others.
If you are looking to prosper as an investor, you should take a look at some of the secrets we have heard. We've compiled together a list of 23 Successful Investor Traits that you might want to adopt.
23 Successful Investor Traits
Clearly define your goals: 

This might be obvious but it must be said. Simply write down your goals and stick to them. It is okay to be blunt or get specific. A successful investor will identify exactly what they want to achieve and the steps they need to take to do it.

Don't shy away from risk:

With investing, there is no such thing as guaranteed success so you must be ready to take some risks. In a research, it is stated that your risk tolerance is not completely in your control due to a part in your brain. However, this is something you can overcome by learning to do the things that make you uncomfortable.

Take time to read:

The investing market requires a skill that takes years to perfect, and it is not done by just lounging around all day. Many successful investors spend their time reading books, newspapers, trade magazines, and other publications. This is a way to always learn and improve to keep up with the latest market trends.

Don't allow fear to rule decisions:

Studies have shown that emotions like fear and envy are a main reason behind making bad financial decisions. This field is natural to feel fear but it is important to understand that every investor loses money at some point. But only the successful investors work their way around it by not allowing fear and panic ruin everything.

Maintain a humble attitude:

In the investing game, there are tons of top tier investors. However, despite have billions in net worth, many of them do not flaunt or brag. Modesty is the key to being an effective leader.

Learn from failures:

"If at first you don't succeed, try, try again" is a motto to live by. Use your failures as a motivator to improve as a person and fix your mistakes. As stated earlier, you are bound to have some losses, especially if you are a beginner investor; but do not let this stop you.

Demonstrate staying power:

Don't give up as soon as you run into some trouble. In order to build your wealth, it requires a sense of grit and staying in for the long haul, even when things don't go your way.

Exercise patience:

Patience is a virtue. Successful investors are prepared to playing the waiting game instead of rushing into a decision, which is proven to result in higher success rates. Smart investments are more than just choosing the right stocks.

Keep it real:

Be realistic. Don't daydream about unreachable goals. Great investors keep their minds clear, stick firmly on the ground, rather than keep their head in the clouds.

Believe in your success too:

Even though investors are realistic about their chances, they know the first step is having a strong mental attitude. You have to make the vision clear in your head before you can make it a reality.

Don't over-analyze everything:

As a new investor, overthinking things can actually hinder your performance. This doesn't mean you shouldn't put in time to do your research. This means that you need to pull the trigger when the time is right instead of wasting time and money.

Stay optimistic:

Dealing with the ups and downs of the market can be stressful, but the more optimistic your outlook is, the easier it is to overcome. Focus on the positives and work on the negatives.

Actively manage your investments:

Make changes where you see put. You must manage your investments if you want to see your assets grow.

Don't play the blame game:

Successful investors  take responsibility for their investing decisions, even if they turn out to be bad ones. Simply assess where you went wrong, and make better choices later on.

Keep an eye on your track record:

Remember the past and know that it the best indicator of future performance. Pay close attention to what's working and what's not but don't dwell the negatives.

Avoid impulse buys:

Don't fall into the trap of impulse buys. If you're feeling the urge to make a trade, sit down and think for a minute about the downsides are and try to talk yourself out of making a bad decision.

Practice good habits in every area of your finances:

Similar to the principles in regular lives, stick to saving, spend conservatively, and don't buy things you know you can't afford. Credit card debt or loans can add up, resulting in a harder time trying to be wealthy.

Practice gratitude:

Try being grateful for what you have. Being grateful can help lower stress levels and improve heart health, but it can also make you a better investor.

Project confidence:

Having self-confidence is a must if you're going to invest because you can't afford to doubt yourself when money is on the line.

Don't take it too far:

Confidence is key but there's a point when being overconfident can work against you. When your personal opinion of your investing skills is boosted, it can cause you to make unwise decisions.

Get educated about the market:

There are plenty of other things to invest in aside from stocks, bonds, and mutual funds. But the majority of novice investors don't know about or understand the other alternatives. Proven investors fully understand alternative investments and use it to their advantage.

Mix things up:

Limiting yourself to just 1 or 2 investments isn't going to lead to any major earnings. Diversifying your portfolio of investing is one of the cornerstones of a solid strategy. Find a balance between investments so you're not wasting your time and money.

Have an exit plan:

Prepare for the worst and have an escape plan. Treat what you do like a business, and construct a plan for their money for getting out of an investment when things starts to go wrong.
Bottom Line
You might have heard of some top notch investors in the world. You could get there someday if you put the work in. However, if you are looking for some assistance, we've put together 23 Successful Investor Traits. Take these tips into consideration if you decide to pursue investing.
If you're interesting, we've also composed a list of ways to Save Money that you can check out. Also if you would like to see all the latest bank deals nationwide, be sure to view our full list of Bank Bonuses and find one in your area!