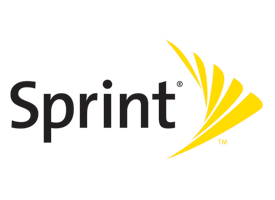 Lets take a walk down memory lane with Sprint ever since the EVO was released.
First, there was a $10 for premium data on "Premium" phones.
Second, no employee discounts for the additional lines.
Then the annual upgrades were gone.
Next, the $10 premium data on all 3G phones.
Again with some maintenance Fees increased to $2.
Sprint is back at it again with their nickel and dime method. Apparently, starting February 1st, 2012, they will increase your bill by almost $5 with Family and Business Share monthly plan for those with a corporate discount. They will change Line 2 into applicable Add-a-Phone rate and will not be discount eligible. Discounts will only apply to the monthly recurring charge of the primary line.
Here's the Math breakdown:
Current Policy: L1 + L2 = $129.99 – 25% discount = $97.50
New Policy: L1 $110 – 25% discount + L2 $19.99 = $102.50
Hence, your rates just went up by $5 each month!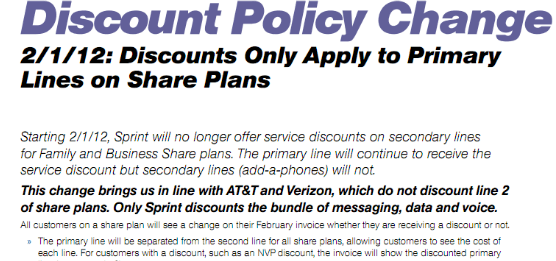 You will have 30 days to cancel your lines without paying the Early Termination Fees. However, you could also negotiate and get freebies such as service credit to offset this fee or full upgrade on your phones if you don't want to cancel. The easiest way to take care of this is talk to Sprint Executive Office to cancel.
Follow these steps:
Call (866) 727-0665 and ask for Executive Office
or Call *2 Cancel or 1-800-927-2199 which handles customers receiving corporate discounts on their accounts.
or Call Sprint's Consumerist Hotline (703-433-4401)
Tell them there is a Material Adverse Change with the new policy and you want to cancel your lines without paying ETF.
If you want to negotiate, then call customer service and ask for Account Services(retention department).
When You Don't Have To Pay An Early Termination Fee
You aren't responsible for paying an Early Termination Fee when terminating Services: (a) provided on a month-to-month basis; (b) consistent with our published trial period return policy; or (c) in response to a materially adverse change we make to the Agreement as described directly below.

Our Right To Change The Agreement & Your Related Rights
We may change any part of the Agreement at any time, including, but not limited to, rates, charges, how we calculate charges, or your terms of Service. We will provide you notice of material changes—and may provide you notice of non-material changes—in a manner consistent with this Agreement (see "Providing Notice To Each Other Under The Agreement" section). If a change we make to the Agreement is material and has a material adverse effect on Services under your Term Commitment, you may terminate each line of Service materially affected without incurring an Early Termination Fee only if you: (a) call us within 30 days after the effective date of the change; and (b) specifically advise us that you wish to cancel Services because of a material change to the Agreement that we have made. If you do not cancel Service within 30 days of the change, an Early Termination Fee will apply if you terminate Services before the end of any applicable Term Commitment.


• You're eligible for up to a $3,000 bonus when you open a new Chase Private Client CheckingSM account with qualifying activities.
• Speak with a Private Client Banker to open your Chase Private Client Checking account today. Schedule your meeting at your nearest branch or over the phone.
• Priority service for everyday banking. Receive personalized attention from a dedicated Chase Private Client Banker who is ready to help you.
• Earn $1,000 when you deposit $150,000 or earn $2,000 when you deposit $250,000 or earn $3,000 when you deposit $500,000
• No ATM fees worldwide.
• No Chase fee on incoming or outgoing wire transfers; can be completed online or over the phone.
• Experience a financial relationship that brings you more.
• Deposit products provided by JPMorgan Chase Bank, N.A. Member FDIC. Deposit products are FDIC insured up to the maximum amount allowed by law.