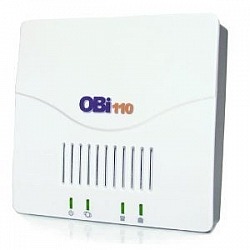 Good news everyone! It has been announced that Google Voice will be FREE until the end of 2012 for making phone calls using the Obi110 VoIP Telephone Adapter. Users are getting the following popup "Calls to the U.S. and Canada are free in 2012." in the Google Voice account. You can simply sign up to get a free number which is very useful.
Use the promo code OBIGREAT for your Obi110VoIP Telephone Adapter during your Amazon checkout for an additional $5.11 savings for a total of only $44.88 with free shipping.(*hint: must buy as sold by Obihai Technology on the right-hand site of the screen under "More Buying Choices")
This technology is amazing since you get free calling within the US and Canada through 2012. You simply plug in any standard telephone system and use Google Voice to make phone calls at no charge at all! This means free long distance with no computer required(must have broadband internet access). No Google voice number? Get one free at no cost!