Take shopping to a whole new level. Swagbucks and Paribus partnered up to offer you a promotion where if you sign up, you get up to 1,200 SB! Keep in mind that this offer is only available to anyone with a Swagbucks and Paribus account for a limited time only.
You can purchase a certain amount of points and can later be redeemed for gift cards, items, or credit. This offer is only valid while supplies last, so be sure to hop on this offer quick as it may expire before you know it.
Editor's Note: You must have a Swagbucks account. Sign up for Swagbucks with us to receive a $10 Gift Card Bonus! Be sure to use our referral link and enjoy!
Swagbucks Paribus Promotion
Promotion: Sign up & get up to 1,200 SB
Expiration: Limited time or while supplies last
Availability: Swagbucks/Paribus members only
Terms & Conditions: SB will appear as Pending for 32 days. Must sign up for Paribus to earn 200 SB. Use the email address where your email shipping confirmations get sent. You must not have or previously had an account with Paribus under any email address. Allow Paribus to scan your email account for email shipping confirmations from eligible merchants to earn 100 SB. The Paribus scan may take up to 24 hours and will only look at the last 30 days & future 30 days worth of email shipping confirmations after you have signed up with Paribus to determine if you qualify for the 1,000 SB.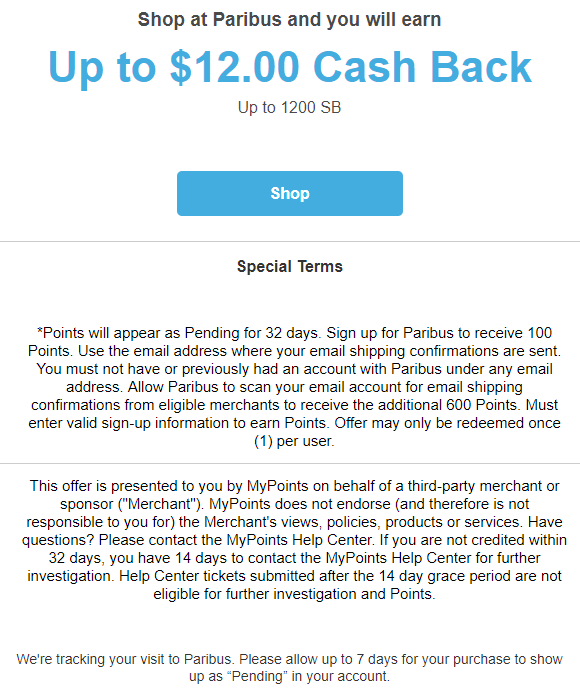 Get 1,200 SB
If you do not already have a Swagbucks account, sign up through our referral link for a free $10 gift card.
Once you signed up for Swagbucks, sign up with Paribus
Let them scan your email for a receipt
Receive the 1,200 SB!
What Is Swagbucks?
Swagbucks is an online rewards program where you can earn virtual money called "Swag Bucks"  You can turn these "Swagbucks" into gift cards. Ways to earn Swagbucks include: watching promotional videos, participating in polls and surveys, buying products (cash back), and playing games. Whenever you're signed in and use their search engine, you win Swagbucks. The easiest way is through using their search engine. Use this daily to search for stuff to earn easy bonuses every day!
Bottom Line
Swagbucks is an easy way to make points, you basically just make points and turn those points into gift cards. Swagbucks and Paribus partnered up to offer you a promotion where if you sign up, you get up to 1,200 SB!
In my personal experience, Swagbucks is an easy way to earn money for using it as a daily search engine. Find out more ways to save money or receive other bonuses such as on Credit Cards.