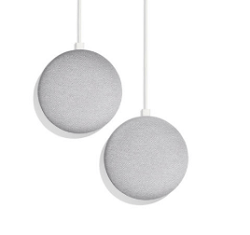 The Google Home Mini Smart Assistant 2 Pack is now on sale for $78.99 with free shipping via eBay. Add this small accessory to your house for a major upgrade. The Google Home Mini has everything a Smart Assistant device has in a small package. It has a 360 degree speaker that has hidden LED status lights to help communicate when the Mini is working or listening.
You're able to mix and match! you can either choose from the Charcoal, Chalk, or one of each! No matter what you decide to go with, the price remains the same. It's compatible with many devices to make your life easier by having it hands-free device.
To use it, it only requires a power supply and to be synced to your home Wi-Fi network. These deals don't last very long, so purchase as soon as you can! If not, come back to HMB for another hot deal! To maximize your savings, be sure to use a rewards credit card and/or pair it with a cashback portal so you can earn points/cash back on your purchases!
Google Home Mini Smart Assistant Features:
Google Home Mini requires a Wi-Fi network, a nearby electrical outlet and a compatible mobile device.
Controlling certain devices and features in your home requires a compatible smart device. For example, the query "Play 'Stranger Things' on my TV" requires a Chromecast, and controlling devices like lights and thermostats requires compatible smart lights and smart thermostats linked to Google Home Mini smart speaker. Controlling devices such as coffee makers, baby monitors and fans in your home requires compatible smart plugs and/or switches.
The calling feature allows outgoing calls to most phone numbers in the United States and Canada, but does not support calls to 911 or premium rate numbers.
Bottom Line:
Are you interested in the Google Home Mini Smart Assistant? Why get one when you could get two for a steal? The Google Home Mini Smart Assistant comes in a two pack on eBay. It's like having your own accessible Google! Its original price is $98.99, but right now you can purchase it for $78.99 via eBay. That's $20 in savings! If you want to save even more money, you can purchase discounted gift cards and perhaps save with the best cash back shopping portals!