Simply buy a $100 dollars mall gift card, then spent $200 at the Sonystyle B&M store, and they will give you $100 credit. This is good until Dec. 30th.
Here's the promotion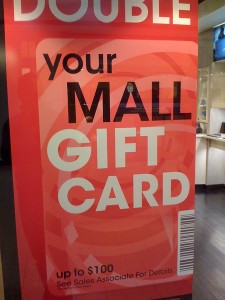 Doesn't apply to PS 3 or PSP, but everything else in the store should work. This is a great deal those looking for Sony GPS. Check to see if there is a location close to you.
Looking to make $1020 in free money? Check out Virtual Bank
Here is how you make $1020. You guess it, it is a referral program. For example, email me at hustlermoneyblog@gmail.com to ask for a referral to Virtual bank along with your full name. Once you open up the account through my referral link, you must deposit $100 into your account. You will make $20 and I too will make $20. If you have a blog, great…do exactly what I am doing. If not, in your Virtual bank account, you can send out referral links to 50 of your friends and family. I would ask them first if they want to open up an account before sending.