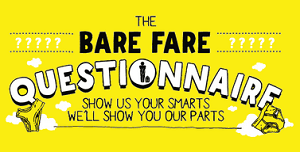 Spirit Airlines is offering 1,500 Free Spirit miles when you complete 3 short quizzes. Simply pick a quiz, then for every correct answer, your "tutor" will undress for success earn 500 FREE Spirit Miles with each quiz you pass. Make sure you answer every question correctly or you'll need retake the quiz again.
Here some more extra bonus miles to get to that 10K mark for your free one-way award ticket:
1,000 Spirit miles with a new Rewards Dining account and spending $30 (tax and tip count) at a participating restaurant.
400 Spirit miles for joining a survey site and taking your first survey.
Spirit Airlines 1,500 Bonus Miles:
Bonus: 1,500 Spirit Miles
Requirements: Have a Free Spirit Account
What To Do: Take 3 easy quizes
Terms: Spirit Airlines reserves the right to cancel, suspend and/or modify the Bare Fare Questionnaire campaign. Sponsor reserves the right in its sole discretion to disqualify any individual it finds to be tampering with the booking or registration process or the operation of the campaign or to be acting in violation of these terms and conditions or any other promotion or in an unsportsmanlike or disruptive manner.
Miles Expiration: Miles expire after only 90 days of inactivity.
Earn 1,500 Spirit Miles:
Have a Free Spirit Account if you do not have one sign up here
The electronic certificate worth 500 miles will be displayed when the quiz-taker enters his/her FREE SPIRIT number in the requisite form after correctly answering all the questions on the quiz.
Bottom Line:
The cheapest one-way Spirit award redemption costs 10,000 miles and just 2,500 miles if you have their credit card. In any case, free miles is free miles and you can earn the 1,500 free Spirit Miles by answer a few questions. See our full list of Miles Promotions!