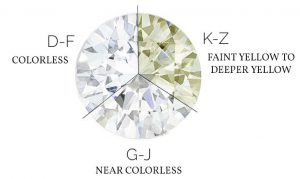 After reading through a few guides on how to buy diamonds, you're probably hearing a lot about the "4 C's of Diamonds." These 4 C's of diamonds are essential to defining a diamond by specific characteristics the diamond may have. If you want to shop for diamonds, you should inform yourself with our post on "The 4 C's of Diamonds" so that you are familiar with the main attributes of diamonds. In this post, we will be going over one of the C's of diamonds, Color.


At Blue Nile, their jewelry is designed and crafted with high-caliber, quality materials and inspected with exceptionally high standard.
• Highest Diamond Quality Standard & Authenticity Certified
• Get More For Less & Always Have The Best
• Best Price: Find a comparable GIA graded diamond for less and they'll match the price. Pay 20% up to 40% less than traditional jewelers


What is Color?
Not all diamonds come in perfectly clear or white. They often appear with different tints to them like yellow, blue, and pink. Generally, Diamonds are more valuable to consumers when they have less color in them as it makes the diamond sparkle and reflect more! It is important for consumers to know about diamond color because it gives them a baseline of how much to budget in this additional area of diamond beauty.
The Gemological Institute of America:
Certified diamond colors are usually defined by the Gemological Institute of America by a set of letters from "D" all the way to "Z." They oversee how diamonds are graded and issue reports based on a variety of strict factors like the 4 C's. Diamonds that are GIA certified are typically the most trustworthy diamonds on the market with good reputation and credentials. While shopping for diamonds, be sure to look for GIA certified diamonds.
GIA Diamond Color Scale
Colorless

D-F Color- D is the highest standard of color to obtain and is completely clear. The difference between "D" and "E and F" is that E and F grades can only be determined by a professional diamond specialist.

These diamonds are typically set in either platinum or white gold to emphasize brilliance.

Nearly Colorless
G-J Color- These diamonds are mostly colorless to the naked eye and are placed in either platinum or white gold to ensure no color reflections from metals like yellow gold. Prices tend to be 10-15% lower than diamonds in the "D-F" color grade.
Faint Tint
K-M Color- Diamonds in this grade can have a slight yellow tint to the naked eye. This slight tint may be placed in yellow gold to show off the warmer color. These price about 50% lower than "G-J" colors.
Very Light Tint
N-R Color- These have a noticeable yellow or brown tint. They are priced much lower than other diamonds above them.
Light Tint
S-Z Color- Diamonds in this grade have very noticeable color tints of yellow and brown and are priced the lowest out of all the grades.

Color Buying Tips:
Look for diamonds with GIA certifications that will confirm that you are getting a fairly graded diamond.
In addition to the GIA Certification, look for any types of noticeable tints that may throw you off the diamond.
Look at how white and colorless the diamond appears in the setting it is made in. A yellow gold setting can really affect how the highest "D" Color Grade will look by its ability to reflect tints of the gold.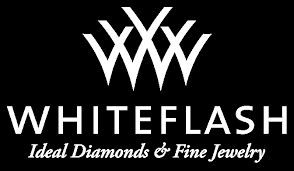 At Whiteflash, they're all about the Ideal Cut Diamond carrying the largest inventory & best selection of AGS certified ideal diamonds in the world!
• Exclusive provider of their own A CUT ABOVE® Super Ideal Diamonds
• Finest designer brands such as Tacori, Verragio, Simon G, Ritani, Danhov, Vatche, and Benchmark
• Entire staff GIA trained including several Graduate Gemologists & Diamond Graduates
• Complete Satisfaction Money Back Guarantee


Which Setting Matches my Color?
The color of the diamond can be greatly affected by the setting and the shape. Here are some general guidelines to use when looking at a diamond's color:
White Gold / Platinum Solitaire Setting

Round: H-J. Going for a diamond color grade higher than "H" will give you differences you cannot see with the naked eye.
Princess, Emerald, Asscher: G-I Grades.
All other Diamond Shapes: F-H Grades.
Yellow Gold Setting

Round: K-M Grades.
Princess, Emerald, Asscher: J-K Grades.
All other Diamond Shapes: I-J Grades
If the diamond is in a Yellow Gold Setting, the diamond will naturally reflect yellow tints, so it is not super important to get a higher grade than a "K"

Pave or Side-stone Settings

Round, Princess, Emerald and Asscher: G-I Grades.
All Other Diamond Shapes: F-H Grades.

Halo Settings

All Diamond Shapes: F-H Grades.
The Difficulty of Diamond Color:
Diamonds color grades are extremely hard to differentiate between, especially when the Diamond grade is higher than an "H." Even popular and renowned diamond retailers like James Allen has struggles with defining colors. When shopping through diamond colors, just be sure to follow the above general guidelines that will help you price the diamond correctly.
Diamonds are valued based on a variety of factors and is not able to be priced just off of one characteristic like Color. Always view the diamond as a holistic process and view it as a whole.


At James Allen, their diamond and gemstone fine jewelry collection offers hand-crafted pieces of unforgettable luxury that are perfect for any occasion.
• Their mission is to offer consumers online the highest quality diamonds & largest selection at the best price.
• 150,000+ certified conflict-free diamonds, all photographed in 360° HD
• 24/7 Diamond Experts, with option for Real-Time Diamond Inspections
• Lifetime Warranty, Free Shipping Worldwide
• Hassle-Free Returns with 100% Money Back Guarantee


Bottom Line:
Shopping for diamonds is a complex process with many characteristics that can affect the price, brilliance, and value of a diamond. Diamonds are characterized off of the 4 C's of diamonds.
After picking through what Cut and Shape you want for your diamond, then it is time to choose what color grade you want. While Color is a very important part of valuing diamonds, be sure to not make it the most important part of your purchasing decision. Diamonds should be valued and viewed as a whole with many different characteristics.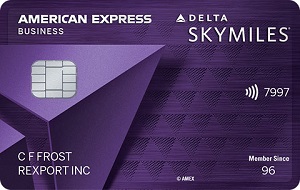 The Delta SkyMiles® Reserve Business American Express Card offers 100,000 Bonus Miles after spending $12,000 in purchases on your new Card in your first 6 months of Card Membership. Plus, earn an additional 10,000 Bonus Miles after you make an eligible Delta purchase with your new Card within your first 6 months. Offer Ends 10/25/2023.

Save 15% On Award Travel With TakeOff 15. Card Members now enjoy savings on Delta flights. Not applicable to partner-operated flights or to taxes and fees.

You'll earn 3X miles on every dollar spent on eligible purchases made directly with Delta.; 1X mile on every eligible dollar spent on purchases.

This card does carry an annual fee of $550 (See Rates & Fees). However, there are no foreign transaction fees.

Terms and limitations apply.