The most important factor that goes into making a diamond sparkle is how the diamond is cut. An excellent graded cut will yield a more brilliant and fiery diamond because of its specified proportions. The Diamond's Cut is 1 of the 4 C's of Diamonds. The 4 C's of diamonds essentially defines a diamond's quality by the 4 factors of Cut, Clarity, Carat, and Color. If you would like to see more information about the 4 C's, be sure to view our post on "The 4 C's of Diamonds."
What is Diamond Cut?
A diamond's cut refers to how proportionate a diamond is based on how the angle cuts in the diamond create reflections exhibiting more brilliance. Diamond cuts factor in a bunch of different attributes like angles, depth, diameter, and width and how they interact with each other to create a beautiful diamond. Each of these attributes play a different role:
Proportions- deal with the table, width, and depth measurements of the diamond.
Symmetrical facets- focuses on the mirrors, windows and steps of a diamond and how they reflect off each other.
Brilliance- is determined by how bright the white light reflection is.
Fire- refers to the colored light that may be reflected.
Scintillation- is when light moves across the diamond, how does the diamond sparkle and flash?
Finishing details- how the diamond will last with its permanent treatments and polishing.


At Blue Nile, their jewelry is designed and crafted with high-caliber, quality materials and inspected with exceptionally high standard.
• Highest Diamond Quality Standard & Authenticity Certified
• Get More For Less & Always Have The Best
• Best Price: Find a comparable GIA graded diamond for less and they'll match the price. Pay 20% up to 40% less than traditional jewelers


Proportions:
The proportions of the diamond are heavily weighted by its Table, Width, and Depth.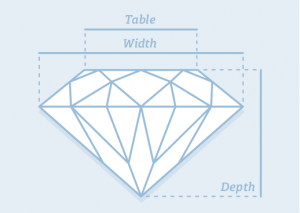 Diamond Table
Diamond Table affects how light is reflected on different angles and facets. Very large table proportions can prevent light colors from being seen by the eye. A low table proportion can trap the light within the diamond meaning less brilliance and brightness.
Diamond Width
Diamond Width is essential to determining the length to width ratio for different diamond shapes. The length to width ratio determines how proportionate a diamond is.
Diamond Depth
Diamond Depth refers to the height of the diamond. Low depth percentages can signify a larger looking diamond, however too low of a depth percentage can hinder the beauty of the diamond by creating a darker reflection with less light reflection.
Difference Between Diamond Cut and Shape:
Diamond shape and cut are often used interchangeably, even if they are completely different things.
A diamond's shape refers to the outline of the diamond. An example of diamond shape would be a "Rectangle" or a "Round" diamond.
A diamond's cut refers to the different proportions, symmetry, dimensions, and angles the diamond is cut into. Characteristics like diamond depth and width describe the cut of a diamond. If you would like to learn more about diamond cuts and shape, look at our "Diamond Cuts vs. Shapes Guide!"

Where Is The Best Place To Buy An Engagement Ring?
For
Diamond Retailer
Best Place To Buy Online
James Allen
Biggest Selection
Blue Nile
Best Diamond Cuts
Whiteflash
Effects of Diamond Depth:
Diamond's depth can be described by how shallow or deep it is. A diamond with that is too shallow or deep can greatly affect the beauty of the diamond.
Too Deep:
A diamond that has a really deep depth is usually seen to be smaller than other diamonds. Deep Diamonds can reflect lights away from the eyes of the viewer and make it look dull. A diamond cut with good depth proportion would usually be able to give off more vibrant lights that reflect directly to the diamond's viewer.
Too Shallow:
Shallow diamonds actually appear to be larger than other diamonds because of its proportions to its table size, however just because it is bigger, doesn't mean that it is better. A diamond that is too shallow will disperse light to the sides making it not as bright.
Best Diamond Cut:
The best diamond cut is one that reflects light from all angles and pavilions, especially from the crown and table. Diamonds that are well cut and proportioned correctly are graded by the American Gemological Society (AGS) as "Ideal"  and the Gemological Institute of America (GIA) as "Excellent." Diamonds with these grades are typically more expensive and beautiful than a higher carat diamond that may be cut poorly.


At James Allen, their diamond and gemstone fine jewelry collection offers hand-crafted pieces of unforgettable luxury that are perfect for any occasion.
• Their mission is to offer consumers online the highest quality diamonds & largest selection at the best price.
• 150,000+ certified conflict-free diamonds, all photographed in 360° HD
• 24/7 Diamond Experts, with option for Real-Time Diamond Inspections
• Lifetime Warranty, Free Shipping Worldwide
• Hassle-Free Returns with 100% Money Back Guarantee


GIA Grading:
The GIA is one of the reputable diamond associations that grades diamonds. GIA Diamond approvals are typically graded the best and are ensured to have more value than a non GIA graded diamond. If you want to buy diamonds from a GIA Certified AND an AGS Certified diamond retailer, Whiteflash is your best bet. Their "A Cut Above Diamonds collection" are the best on the market!
The GIA Grades diamond cuts based on a range of descriptors:

| | |
| --- | --- |
| Excellent | Highest level of brilliance and fire with almost all of the light reflecting to the viewer. |
| Very Good | Exceptional brilliance and fire with most of the light going through the table. These diamond's almost achieve the same brilliance as an excellent grade. |
| Good | A good amount of light is reflected creating brilliance and fire. These diamonds typically are at a lower price point than diamonds graded above |
| Fair | Little brilliance and fire with light exiting through the bottom and sides. Good for smaller carat diamonds. |
| Poor | No brilliance, sparkle, or fire. Light escapes at the bottom yielding no light reflections to the viewer. |
Diamond Cut Quality Factors:
The main factors are:
Proportions- the ratios and sizes of the diamond's depth, width and table
Symmetry- precision of the facets, mirrors, windows and steps
Polish- the shine and glow of the diamond surface
A well cut diamond has a combination of these 3 factors and will appear bright and reflective under any light. Look at how fiery the diamond is, the rainbow colored reflections, and the brilliance, the colorless light reflections, to determine quality. Dark spots will generally lower the diamond's quality.
Duller diamonds with little brilliance or fire will typically be diamonds that are cut poorly.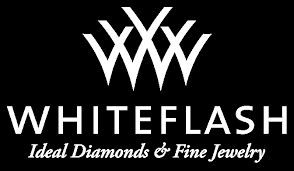 At Whiteflash, they're all about the Ideal Cut Diamond carrying the largest inventory & best selection of AGS certified ideal diamonds in the world!
• Exclusive provider of their own A CUT ABOVE® Super Ideal Diamonds
• Finest designer brands such as Tacori, Verragio, Simon G, Ritani, Danhov, Vatche, and Benchmark
• Entire staff GIA trained including several Graduate Gemologists & Diamond Graduates
• Complete Satisfaction Money Back Guarantee


Cut Grade's Effect on Price:
The cut of the diamond is the most important factor of the 4 C's and affects the diamond's quality the most out of any factor. The diamond's cut grade should be looked at the most and should take priority over any other diamond characteristic. If a diamond is cut poorly, then the diamond is a loss cause with no offerings of brilliance and fire.
Bottom Line:
Diamond cut is the most important factor in determining a diamond's quality with it affecting how the diamond shines, reflects, and sparkles. Considering its importance, diamonds should be shopped with the diamond's cut being the utmost priority. Diamond Cuts that are graded by the AGS and GIA should be preferred over other non-certified diamonds because they yield the most reputable diamond grades on the market. Focus on the proportions and how well light is reflected through the diamond and you will be on your way to buying a good looking diamond! If you're interested in looking at how diamonds are priced, look at our "Diamond Pricing Guide!" If you're going to be shopping online for your diamonds, be sure to look at our post "How to Buy a Diamond Online!"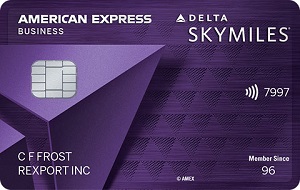 The Delta SkyMiles® Reserve Business American Express Card offers 70,000 Bonus Miles after spending $5,000 in purchases on your new Card in your first 3 months of Card Membership.

Save 15% On Award Travel With TakeOff 15. Eligible Card Members now enjoy exclusive savings on Delta flights. Not applicable to partner-operated flights or to taxes and fees.

You'll earn 3X miles on every dollar spent on eligible purchases made directly with Delta.; 1X mile on every eligible dollar spent on purchases.

This card does carry an annual fee of $550 (See Rates & Fees). However, there are no foreign transaction fees.

Terms and limitations apply.