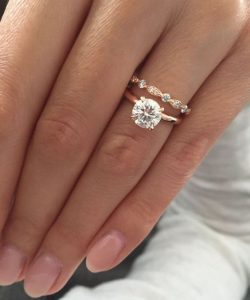 You've been to a few diamond stores around your area and you find some decent diamonds, however none of them seem to pop or look like the perfect one. Physical diamond stores are great for getting a real life perspective of what you are trying to purchase, but sometimes the physical location will limit the selection of diamonds that are available. If you limit your search to just physical retailers, you are going to limit yourself to only a small portion of the diamond market. Sometimes the best place to buy diamonds are not in the physical retailer, but online! Where do you start a online diamond shopping experience? Find out in this guide!
Editor's Note: If you want to learn more about the qualities of diamonds, be sure to look at our info post on "The 4 C's of Diamonds!"
The Best Place to Buy Engagement Rings
You may think there is a perfect place, but in actuality, you have to expand your horizons and look at a multitude of retailers to find a great diamond for your taste and preference. There are a ton of online diamond retailers, but there are a select few that are noteworthy. Start your look at the stores listed in the table below:
Where Is The Best Place To Buy An Engagement Ring?
For
Diamond Retailer
Best Place To Buy Online
James Allen
Biggest Selection
Blue Nile
Best Diamond Cuts
Whiteflash
What to Know Before Buying
Price: Before you go shopping for diamonds, be sure to know how much you are able to budget and spend. A diamond is a large investment, but it shouldn't put you into extreme debt. Know how much you are able to spend and stick with that amount. If you need help knowing how much to spend, be sure to check out our guide "How Much Should I Spend on an Engagement Ring?"
Selection: A bigger selection of diamonds means that you will have a larger amount of diamonds to pick from. More diamonds to pick from means a higher chance of finding the perfect diamond for a great price. The diamond online retailer with the largest selection is Blue Nile. Start your search there and browse through thousands of jewelry products and diamonds!
Best Online Shopping Experience: James Allen
All of the mentioned companies are great, but James Allen definitely has the best online shopping. Their customer service, quality of diamonds, and many other factors make them unique to any other diamond retailers.
Before buying any diamond, it's always in your favor to look at the diamond beforehand. That is why James Allen offers 360 degree HD Viewing Technology to ensure customers that they are getting exactly what they are purchasing. This technology allows you to view any flaws, inclusions, or blemishes that may appear on a diamond. Your purchase will feel much better when you can see the diamond before purchasing it.
If you don't like any of the pre-set diamond rings, you can always just customize one to be your own too! James Allen is one of the rare companies that will allow you to pick the way you want your ring. James Allen Customization will help you get your engagement ring to exactly the way you want it!


At James Allen, their diamond and gemstone fine jewelry collection offers hand-crafted pieces of unforgettable luxury that are perfect for any occasion.
• Their mission is to offer consumers online the highest quality diamonds & largest selection at the best price.
• 150,000+ certified conflict-free diamonds, all photographed in 360° HD
• 24/7 Diamond Experts, with option for Real-Time Diamond Inspections
• Lifetime Warranty, Free Shipping Worldwide
• Hassle-Free Returns with 100% Money Back Guarantee


Best and Largest Selection: Blue Nile
It is extremely important for you to look through numerous diamonds to find the best one. Limiting yourself to just a few will lessen your chances of finding a perfect diamond. Blue Nile offers the largest selection online and will help you find the perfect diamond!
Largest selection and the cheapest diamonds. Blue Nile gives you the cheapest diamonds by offering customers price match. If you find a lower priced diamond of the same qualities, Blue Nile will match the price.


At Blue Nile, their jewelry is designed and crafted with high-caliber, quality materials and inspected with exceptionally high standard.
• Highest Diamond Quality Standard & Authenticity Certified
• Get More For Less & Always Have The Best
• Best Price: Find a comparable GIA graded diamond for less and they'll match the price. Pay 20% up to 40% less than traditional jewelers


Highest Diamond Cut Quality: Whiteflash
If you're looking for the top of the top quality diamonds, Whiteflash is the store for you. They offer the most ideal cuts of diamonds and are all qualified by the Gemological Institute of America (GIA) and the American Gem Society (AGS). These qualifications differentiate Whiteflash's diamonds by giving them unbiased and professional opinions on how their diamonds should be graded.
Whiteflash has a lot of pride for their world class A Cut Above Super Ideal Cut Diamonds. These diamonds are Whiteflash's top notch diamonds that go through strict evaluation to be considered one. They are cut and polished to achieve max brilliance, fire, and beauty. If you're looking for the best of the best, A Cut Above Diamonds are the way to go.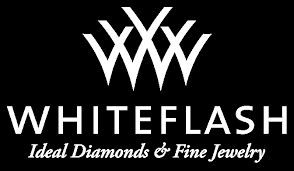 At Whiteflash, they're all about the Ideal Cut Diamond carrying the largest inventory & best selection of AGS certified ideal diamonds in the world!
• Exclusive provider of their own A CUT ABOVE® Super Ideal Diamonds
• Finest designer brands such as Tacori, Verragio, Simon G, Ritani, Danhov, Vatche, and Benchmark
• Entire staff GIA trained including several Graduate Gemologists & Diamond Graduates
• Complete Satisfaction Money Back Guarantee


Bottom Line:
Finding an engagement ring is a difficult process. There are tons of stores that you can purchase from and diamonds to pick from. It is important to pick from diamond retailers with a great reputation. Before buying a diamond from anywhere, be sure to narrow your search to how much you can budget to the purchase. After budgeting, look through a large selection so that you have a higher chance of finding a great diamond for a good price. Not all diamond retailers are made equal! The ones we recommend are James Allen, Blue Nile, and Whiteflash. They are all great in their own respects and are the best places to start your search. If you would like more help on how to buy diamonds, be sure to look at our guide on "How to Buy Diamonds Online!"