Hurry to over Bestbuy.com to get this ASUS Chromebook (8GB, 14″) for only $129. This laptop is normally priced at $329.
Best Buy: Purchase ASUS Chromebook for $129.99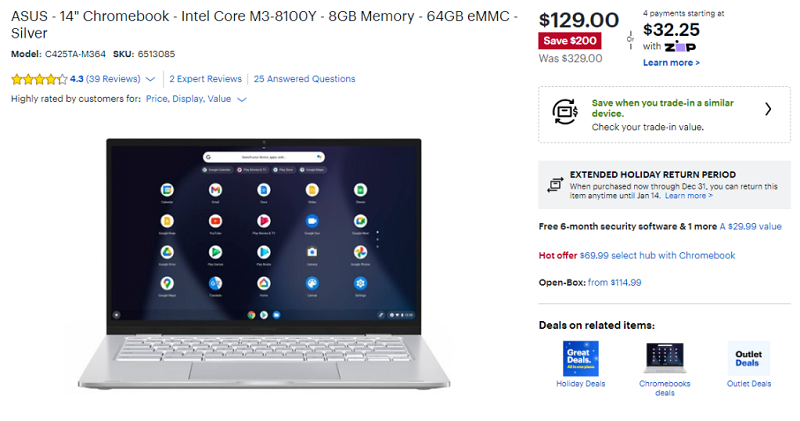 Save $200 on the ASUS Chromebook (8GB, 14″) when you make the purchase at Bestbuy.com. You'll end up paying $129, instead of the usual $329.
Features:
14″ Full HD: The 1920 x 1080 resolution boasts impressive color and clarity. Energy-efficient LED backlight.
8GB system memory for basic multitasking: Adequate high-bandwidth RAM to smoothly run multiple applications and browser tabs all at once.
64GB eMMC: This ultracompact system is ideal for mobile devices and applications, providing enhanced storage capabilities, streamlined data management, quick boot-up times and support for high-definition video playback.
Clamshell Design: Offers versatile design with laptop, audience, tabletop and presentation modes
Built-in cloud support: Easily save your files to your Google Drive account for secure access wherever you go. You can also sync with your other devices running Chrome and even work offline when needed. Fees may apply.
Intel UHD Graphics: On-processor graphics with shared video memory provide everyday image quality for Internet use, basic photo editing and casual gaming.
Weighs 3.09 lbs. and measures 0.65″ thin: Ultrathin and ultralight for maximum portability, featuring a smaller screen size and omitting the DVD/CD drive to achieve the compact form factor. Lithium-polymer battery.
(Visit BestBuy to take advantage of this promotion)
---
---
Bottom Line
If you're looking to purchase a laptop on a budget, here's your chance to with this money saving offer!