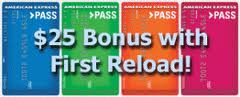 For those who has the AMEX PASS card, there is a recent promotion whereas you set up auto reloads adn get a $25 Gift Card with promo code #: AR1. Make sure you enroll before September 30, 2011 and up to a maximum of 3 cards. Cardmembers enjoy all the benefits of PASS without a monthly fee. You get one free ATM withdrawal each month. There is no Foreign Transaction fees just in case for traveling abroad. Lastly,  there is no load, activate or reload fees.
Highlights:
Promo #: AR1
Signup: www.americanexpress.com/pass
PASS is a prepaid card
Initial minimum charge is $25
Each reload minimum is $25
More info: 1-877-405-7277
Again, this deal is for existing customers who are not yet set up for auto-reload. The $25 bonus will take 4 to 6 weeks and PASS must be active in order to qualify. The reload must be before September 30, 2011 so sign up today!