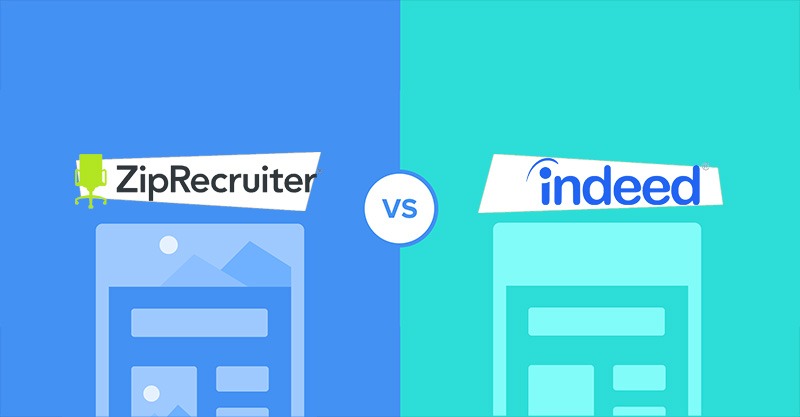 Today there are many job boards available as well as apps, aggregators, social media channels, networking groups and staffing company websites to choose from. If you're planning to expand your network or simply looking for a job, there are many employment websites to choose from.
ZipRecruiter and Indeed are the two most well known job recruiter and posting website in the market right now. Both services offer different features, so if you want to learn on what makes them the best of the best, continue reading below for a side-by-side comparison.
---
About ZipRecruiter
---

ZipRecruiter is an online employment marketplaces that lets employers post jobs to different job boards. With their AI-powered smart matching technology, you are easily connected to millions of employers and job seekers.
Not only that, it offers a software feature that allows employers to evaluate and message candidates all from one interface. Plus, the company has partnerships with several leading job boards.
(Click the link above to learn more)
---
About Indeed
---

Indeed is one of the most popular job posting site that connects millions of people to new opportunities. Not only that, Indeed has the ability to pull job listings from many diverse sources, the site offers a comprehensive listing of available job openings, which can be searched for by keyword, job title, industry, or level of experience.
Indeed is a fantastic resource for most recruiters and business owners.
---
ZipRecruiter vs Indeed
---
ZipRecruiter is known for its ability to blast a job posting across numerous job boards, so it ensures you get your job posting to as many eyes as possible. Keep in mind that the number of slots you get will depend on the plan you choose, but any job opening you post is spread across 100+ job boards online.
Mobile app for employers to use when looking over applicants
Numerous tools for managing applicants, flagging them, reviewing them, etc.
Ability to add pre-screening questions to applications
Sends job posting to more than 100 different sites
All postings come with unlimited candidate amounts
While Indeed offers much more than basic job searching and posting, they are also free, incredibly popular, and function largely as a search engine. Once you make an account, you can post job openings for free with the option to promote your posts. Applicants and employees can also leave reviews of your company on your page.
Free job posting
Access to more than 120 million resumes
Integration with more than 80 applicant tracking systems
Ability to run pay-per-click ads for jobs you're posting
Can seamlessly schedule interviews through Indeed account
Pre-screening questions can be added to postings, as well as specific qualifications
---
Main Features
| | | |
| --- | --- | --- |
| FEATURE | ZIPRECRUITER | INDEED |
| Activity Dashboard | Yes | |
| Applicant Tracking | Yes | Yes |
| Applications Management | Yes | Yes |
| Built-In Database | | Yes |
| Job Application Management | Yes | Yes |
| Receiving | Yes | Yes |
| Resume Database | Yes | Yes |
| Resume Search | Yes | Yes |
---
Pricing
| | | |
| --- | --- | --- |
| PRICING FEATURE | ZIPRECRUITER | INDEED |
| Free Trial | Yes | |
| No Credit Card Required | | Yes |
| Free Account | | Yes |
| Subscription Based | Yes | Yes |
ZipRecruiter's pricing depends on which plan you choose, as well as the size of your company, and all plans come with a free trial. It customizes e a plan and price for your company's unique hiring needs based on a variety of factors including:
How many job ads you need to post
The number of resume downloads you want
The amount of user seats you need
Your industry
Your location
While Indeed's search results are made up of both free and Sponsored Job listings. Sponsored Jobs are priced on a pay for performance model, with charges incurred only when interested job seekers click on a Sponsored Job.
To sponsor a job on Indeed, specify a "daily budget", which is the average amount you'd like to spend per day to promote your job. There are no contracts, so you can stop sponsoring or change your budget at any time. Your job will continue to be sponsored on Indeed until you stop it. You will only be charged for clicks received on the days your job was posted. You can stop at any time, by changing the status of your job to "paused" or "closed."
---
Integrations
| | | |
| --- | --- | --- |
| INTEGRATION | ZIPRECRUITER | INDEED |
| BambooHR | | Yes |
| Facebook | Yes | |
| Greenhouse | Yes | Yes |
| LinkedIn | Yes | |
| Twitter | Yes | |
---
Customer Support
| | | |
| --- | --- | --- |
| CHANNEL | ZIPRECRUITER | INDEED |
| Phone | Yes | |
| Online | Yes | Yes |
| Knowledge Base | Yes | Yes |
---
Which recruiting site is best for you?
---
ZipRecruiter is best for those who are not sure where to place their job posting ads and for those who want to try and get access to different job boards at once. If you own a large company that is seeking numerous jobs at once, you can get your money's worth with ZipRecruiter. However, you should look into something else if you're wanting for a free or cheaper alternative.
While Indeed largest reach of any job site in the U.S. and their pay for performance model can help keep costs much lower than most of their competitors. Although Indeed is free, it d oesn't post your jobs across a variety of sites — it is the job board. So you might be limited to a smaller candidate of options to choose from.
---
---
Bottom Line
There are numerous job boards available, each offering something a little different. Different businesses look for something different and not one job posting service is going to have everything. So make sure to check out each of the job website available out there for your business.
While you're here on HMB, you can checkout the latest ZipRecruiter promotions here and see how you can make money online!