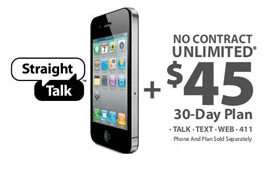 For those with an iPhone(3G, 3GS, 4, 4S), you can now sign up with Straight Talk for their $45 Unlimited Plan(Talk, Data, and Text). You do not need to unlock your phone. Straight Talk is a prepaid phone plan that offer SIM cards for any AT&T-compatible, T-Mobile-compatible, or unlocked phone. You can get their micro SIM card for $15 compatible with Apple iPhone 4 or 4S.
What to do:
Own an AT&T, T-Mobile GSM phone or an unlocked domestic GSM phone
Buy their SIM card for $15 to use on your iPhone 4 or 4S with their $45 a month plan card.
Get unlimited minutes, unlimited text, and unlimited data with no contracts and no credit checks for $45 per month on AT&T or T-Mobile network with 3G data.
Even though it's listed as an unlimited plan, you need to be on the safe side of 2GB per month since they can free your account. You will need to buy the $15 Sim Card online. If you can do 3 months pre-paid at a time, your monthly cost will only be $42 per month(under service plans).