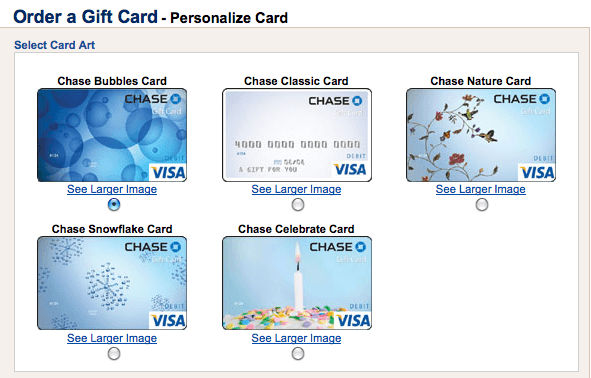 Chase is offering gift cards with no initial fees and no shipping fees which is a great way to earn points/miles on credit cards or to reach spending limits for credit cards bonuses. You must purchase these gift cards using a Chase Credit Card only! With Chase Gift Cards, you can "temporarily" buy Chase Visa Gift cards with NO FEE and free shipping. These are DEBIT cards and come with a pin, hence you can load the entire balance without paying a fee onto a BLUEBIRD card at WALMART. Once the money is transferred to your Bluebird account, you can use the money to pay bills, mortgage, taxes, etc.
Again, you can ONLY purchase these gift cards with a CHASE issued credit card. The most you can purchase in a 30 day period is $2600 per Chase credit card.
You can load a max of $1000 a day and $5000 a month at Walmart to your Bluebird account.
Steps To Load Chase Gift Cards to Bluebird:
Get a bluebird account and card for FREE at bluebird.com
Purchase the debit gift cards with the Chase credit card of your choice.
Call to activate your gift card and write down pin, or create your own pin number.
Bring your Bluebird and your debit gift cards to Walmart and tell any Cashier that you want to load your Bluebird card. They will often take your bluebird card and swipe it and then ask how much you want to load. You will be prompted to provide a pin number.
If you have multiple cards, tell the cashier treat each load as separate transactions. The most you can load at Walmart for the day is $1000.
With the money liquidated, you can use the money on your bluebird account to pay bills or transfer into another account for free. Make sure to pay off your cards every month and not pay any interest to use this method.
More Important Details for Chase Gift Cards:
These post as a purchase on your Chase credit card statement and will earn miles.
You can order up to 5 gift cards in one order.
Cards come in denominations of $25 to $500.
Chase gift cards are not valid for purchase in: AR, CT, HI, ME, NH, NJ, RI, VT.
When you activate the card you will be given a pin number by the automated activation line.
You will be asked for a social security number to make the purchase but there will not be a credit pull.

Hot Deal of the Day: Mr. Rebates offers $5 bonus with best cash back for online shopping from major stores such as Best Buy, Newegg, Sears, Home Depot, etc.
[table "51" not found /]