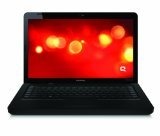 If you don't care too much about specs, and just want a working laptop whereas you can web surfing, emailing, simple word processing, etc, then check out the Compaq CQ62-410US Laptop & Intel® Celeron® 2.2 GHz 2GB RAM 250GB HDD15.6″ LED-Backlit Screen for $230 at Office Depot after all discounts.
This offer is in-store only, and you must use this $50 coupon from Staples. Here's what to do:
Print out the Compaq CQ62-410 laptop offer
Print out the $50 coupon
Visit your local Office Depot
Grab the laptop and ask the cashier to match the coupon from Staples.
When you get home, don't forget to do the $30 Mail-in-rebate too so final price is $230.
I did this today, so you should haven't any problem getting this cheap deal.
For those looking for a laptop with better specs, check out the Lenovo – IdeaPad Laptop  AMD E-Series Processor, 15.6″ Display, 4GB Memory, 320GB Hard Drive – Black. It is on sale at Best buy for only $279.99 in-store only now.