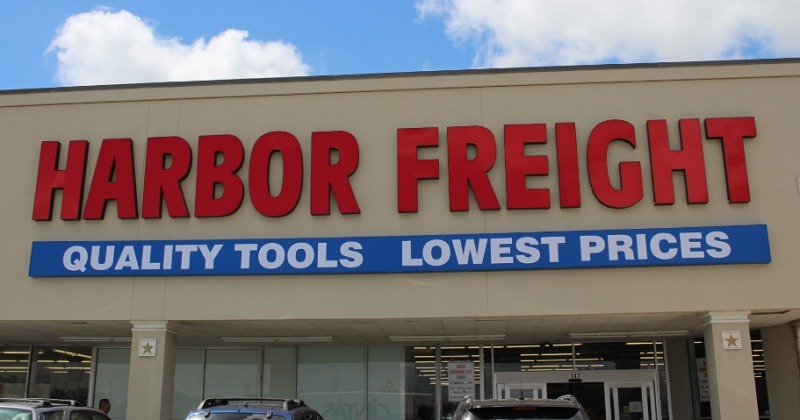 Harbor Freight Tools is giving users a 25% Off Select Item when you purchase something online with the promotion code "39823314" or in store with our printable coupon before the expiration date of May 12, 2019.
You can get gears such as Wair, Hand, Welding Tools, and much more! Shipping starts at $6.99 and may vary based on a selection. You must present this printable coupon at the store, or use the promotion code when you purchase online. This is a great promotion for those of you who frequently purchase tools.
Harbor Freight Coupon Code
Promotion: 25% Off Select Single Item
Promo Code: 39823314
Expiration Date: May 12, 2019
Terms and Condition: Cannot be used with other discount, coupon or any of the following items or brands: Inside Track Club membership, Extended Service Plan, gift card, open box item, 3 day Parking Lot Sale item, compressors, floor jacks, safes, saw mills, storage cabinets, chests or carts, trailers, trencher/backhoe, welders, Admiral, Ames, Bauer, Cobra, CoverPro, Daytona, Diamondback, Earthquake, Fischer, Hercules, Icon, Jupiter, Lynxx, Poulan, Predator, Tailgator, Viking, Vulcan, Zurich.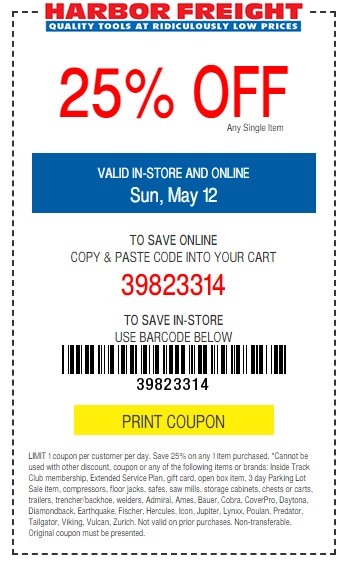 Earn 25% Off Select Single Item
Plan ahead and browse the store online to see if there's anything specific you would consider purchasing.
Head to a local Harbor Freight Tools or online using the promotion code "39823314"
You'll instantly receive your 25% off select single item in a store.
Bottom Line
Harbor Freight Tool's is having a great promotion that you can easily get 25% off select single item in the store or online. This offer is valid only through May 12, 2019, so hurry up and get this deal while you still can.
I personally would not use this promotion because I have no need for tools, but if I had to I would definitely take advantage of this promotion. For those of you who would like to find more ways to Save Money, check out our full list!