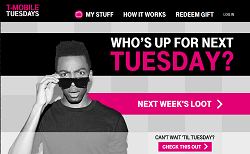 If you love traveling and use T-Mobile, be sure to check out this promotion happening through 11/14/16! T-Mobile is giving out free stuff every Tuesday, and this week they have an offer where you can receive up to $30, $75 and $300 with the HotelTonight App! HotelTonight is an app that you can download for free via iOS or Android that allows you to book hotel reservations up to a week in advance of your stay. HotelTonight will give you great deals on your reservations when you book last minute as HotelTonight would rather let you book a hotel for a deeper discount such as 50% off rather than have the rooms empty making $0. Keep in mind that to qualify for this promotion, you must use T-Mobile to book your hotels! Download the app and save on hotel reservations today!
Promotion: Earn up to $300 off hotel reservation.
Availability: Nationwide
Expiration: 11/14/2016
Terms: Limited quantity. Offer subject to availability. Cannot be combined with any other offers or applied to existing bookings. Offer only applies to first time bookings made in the app. Limited to 1 booking per device. Coupons may not be applied to all reservations.
How To Get HotelTonight T-Mobile Promo:
Sign up for the apps and register.
Book your hotel (no minimum). You should receive a discount of $30, $75, $300 roulette-style off of your hotel reservation.
Use the code you get from the T-Mobile Tuesdays App to book your stay.
Bottom Line:
This promotion is great if you love to travel. Having $30 off without a minimum purchase with T-Mobile is one the better deals considering most other deals have a minimum purchase requirement. The T-Mobile app is also great for deals and discounts anywhere. Remember to check back every Tuesday on the T-Mobile app to see what kind of offers you can get. Let us know about your experience and thoughts in the comment section below! If you like deals like this where you can save money, check out our section where you can find the best ways to save money online!