Saving money and Swagbucks go hand-in-hand. For those that never heard of Swagbucks, it is the ideal site to use for earning free gift cards. You can earn free gift cards when you shop online, watch videos, take surveys, and discover other ways to save money. As part of their Spring promotion, Swagbucks is targeting lucky members with a free $5 gift card when you make a $20+ through the Swagbucks shop by March 31, 2018. New and amazing deals are springing into life, now is the perfect time to shop items ranging from fashion to electronic needs. If you weren't targeted for this offer then don't feel bad because you are still saving more money then those people without Swagbucks accounts!

Swagbucks - Swagbucks is offering an exclusive promotion where you can get a $10 gift card when you spend at least $25+ on qualifying purchase within the first 30 days of signing up. This is a free cash back shopping portal with thousands of big name retailers to shop from. Out of the thousands of shops to choose from you can earn up to potentially 20% cash back. Sign up for the alerts about the latest and most popular promotions but be sure to make your $25+ on qualifying purchases within 30 days of registering to earn your $10 gift card! Apply Now---

Swagbucks Review
Swagbucks Spring Sale Bonus:
Promotion: $5 gift card with $20 purchase
Expiration: March 31, 2018
Availability: Targeted Swagbucks members only
Terms & Conditions:  Cash back is awarded in the form of SB points. Please allow up to 45 days for SB to be credited.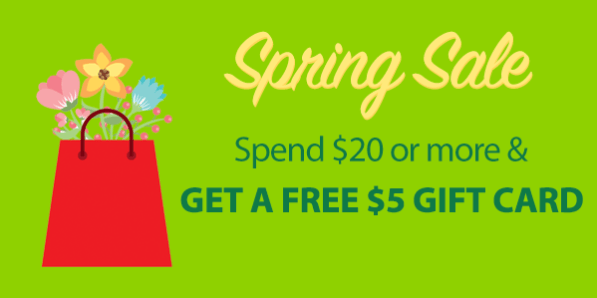 Earn $5 Gift Card From Swagbucks:
Check your emails for this Swagbucks promotion.
Click on "Earn Your Bonus Now" button in the targeted email to be redirected.
Purchase $20+ worth of qualifying goods to earn a free $5 gift card.
Bottom Line:
If you're a Swagbucks member check your email to see if you've been targeted for the Spring Sale promotion! Just spend $20 or more and get a free $5 gift card through March 31, 2018. This cash back offer will be rewarded in the form of SB points and may take up to 45 days to be credited. Don't miss out on this promotion and get rewarded for shipping! Check out more ways to Save Money, here on HMB!