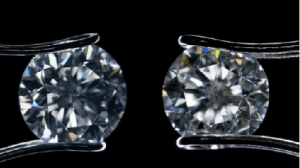 Diamonds are graded on 4 distinct factors called the "4 C's of Diamonds." Each "C" plays a large role on how a diamond is graded and looks. If you don't know the 4 C's, be sure to check out our post on the 4 C's of Diamonds! One of the C's that is essential to diamond beauty is what the diamond's clarity grade is. Clarity affects how crystalline the diamond looks and getting great value for a good clarity grade is something to consider when shopping for diamonds!


At Blue Nile, their jewelry is designed and crafted with high-caliber, quality materials and inspected with exceptionally high standard.
• Highest Diamond Quality Standard & Authenticity Certified
• Get More For Less & Always Have The Best
• Best Price: Find a comparable GIA graded diamond for less and they'll match the price. Pay 20% up to 40% less than traditional jewelers


What is Clarity?
Most diamonds are not made perfectly with no flaws. Diamonds without flaws or inclusions are rare and more expensive than other diamonds with minor ones. The diamond's clarity is defined by how many inclusions the diamond has and how it affects the overall crystal clearness in the diamond. A higher clarity grade means there are less inclusions.
Where Is The Best Place To Buy An Engagement Ring?
For
Diamond Retailer
Best Place To Buy Online
James Allen
Biggest Selection
Blue Nile
Best Diamond Cuts
Whiteflash
How to get the Best Value from Clarity
Clarity is the best way you can save money on diamonds. Each grade level is substantially priced lower than grade levels below them.
Diamond clarity is graded based on the table below:
| | |
| --- | --- |
| Clarity Grade | Description |
| IF-FL | Internally Flawless / Flawless – No internal or external imperfections. Flawless diamonds are extremely rare |
| VVS1 | Very Very Slightly Included (1st Degree) – Diamond clarity inclusions rated VVS1 are not visible at all under 10x magnification. |
| VVS2 | Very Very Slightly Included (2nd Degree) – Diamond clarity inclusions rated VVS2 are sometimes just barely visible under 10x magnification (standard jeweler's loupe). When they are visible, they are quite difficult to find and can often take quite a while to locate. |
| VS1 | Very Slightly Included (1st Degree) – VS1 diamond clarity inclusions are just barely visible under 10x magnification (standard jeweler's loupe). When looking for VS1 clarity inclusions with a loupe, it can sometimes take a good few seconds until the pinpoint is located. |
| VS2 | Very Slightly Included (2nd Degree) – VS2 clarity inclusions are almost always easily noticeable at 10x magnification (standard jeweler's loupe). Occasionally, the inclusion will be located in a difficult-to-spot location, but otherwise, the inclusion is large enough that it can be spotted quickly under magnification. |
| SI1 | Slightly Included (1st Degree) – SI1 Clarity inclusions are easily found with a standard jeweler's loupe at 10x magnification. With most shapes (to the exclusion of step cuts like Asscher and Emerald Cuts), SI1 clarity inclusions are almost always clean to the naked eye. |
| SI2 | Slightly Included (2nd Degree) – SI2 clarity inclusions are seen clearly and obviously with the help of a jeweler's loupe. With step cuts like Emerald and Asscher cuts, an SI2 clarity inclusion will most likely be visible to the naked eye. |
| I1 | Included (1st Degree) – I1 clarity inclusions are even more obvious and clearly seen than SI2 clarity inclusions. Most I1 inclusions are visible to the naked eye—even on brilliant cuts. |

These grades are important, but sometimes an internally flawless diamond can look almost the same as a diamond that is very slightly included and graded VS1 and VS2. The most important part is finding one that doesn't have flaws that can be seen by the naked eye. There is no need to go for an Internally Flawless Diamonds, if the VS2 can look just as good!
VS1 or VS2 Diamonds?
Any diamond that is a VS1 or higher is completely clean to the naked eye (Eye Clean). While VS2 diamonds has some eye clean diamonds mixed into the slightly flawed diamonds. VS2 diamonds have greater value because they are at a cheaper price point AND they can have the same eye cleanliness. They are the secret to saving money on diamonds! Before buying a diamond, it is super important to actually view the diamond you are thinking of. Shop from retailers like James Allen! James Allen has HD 360 Degree Viewing Technology that lets you see every side of the diamond!


At James Allen, their diamond and gemstone fine jewelry collection offers hand-crafted pieces of unforgettable luxury that are perfect for any occasion.
• Their mission is to offer consumers online the highest quality diamonds & largest selection at the best price.
• 150,000+ certified conflict-free diamonds, all photographed in 360° HD
• 24/7 Diamond Experts, with option for Real-Time Diamond Inspections
• Lifetime Warranty, Free Shipping Worldwide
• Hassle-Free Returns with 100% Money Back Guarantee


Can I go to a Lower Grade than a VS2?
VS2 has eye clean diamonds mixed inside. Can SI1 have diamonds that are eye clean too? The answer is yes, but it is much harder to find them in a pile of SI1 than VS2 Diamonds. Shopping for a VS2 is a much safer bet than gambling on an SI1 diamond!
Diamond Clarity Buying Tips
Shop from Retailers that let you see the diamond– Online stores don't give you the option to see the diamond in person, but some provide the technology to allow you to see the diamond online with HD pictures. We already mentioned James Allen, but another great diamond retailer that provides HD Videos is Whiteflash.
Shop for VS2 Clarity Grade– Flaws are usually only able to be seen under careful magnification. By the naked eye, these inclusions are almost invisible! VS2 is the best bang for your buck.
Focus on the Cut- Diamond clarity is essential to a diamond, but the Cut is the single most important factor that plays the role in creating brilliance and fire. The diamond retailer with the best cuts is Whiteflash.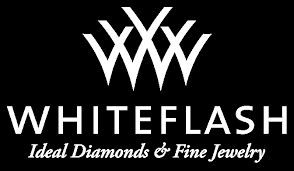 At Whiteflash, they're all about the Ideal Cut Diamond carrying the largest inventory & best selection of AGS certified ideal diamonds in the world!
• Exclusive provider of their own A CUT ABOVE® Super Ideal Diamonds
• Finest designer brands such as Tacori, Verragio, Simon G, Ritani, Danhov, Vatche, and Benchmark
• Entire staff GIA trained including several Graduate Gemologists & Diamond Graduates
• Complete Satisfaction Money Back Guarantee


Bottom Line
A diamond's clarity is defined by how many inclusions and flaws it has. Shopping and filtering diamonds through clarity grades are the best ways to save money on your purchase! When it comes to buying a diamond, the most important thing is how it looks to you. That is why VS2 Diamonds have the greatest value even if it is graded lower! They are essentially perfect under the naked eye and its flaws can only be seen through magnification. Next time you are shopping, be sure to go through the VS2 diamonds and start your search for affordable diamonds. If you would like to learn more about diamond clarity, be sure to view our post on Diamond Clarity!