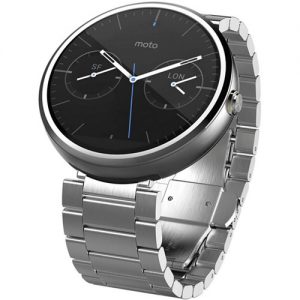 The Motorola Moto 360 Smartwatch is one for the books. For only $99.95 + Free Shipping, you can own your very own classy, high-tech smartwatch. This watch is great if you have an Android phone to pair it with. Some of the features you'll enjoy include a 1.56″ Touchscreen with Gorilla Glass 3, button-free voice control, wireless charging, and much more. Be sure to buy one today!
Motorola Moto 360 Smartwatch (Champagne Finish, Champagne Stainless Steel Band, Slim Fit) for $109.95
Motorola Moto 360 Smartwatch Specs:
Displays Android and App Notifications
1.56″ Touchscreen with Gorilla Glass 3
Bluetooth 4.0 Low Energy
Button-Free Voice Control
Turn-by-Turn Navigation
Nonstop Heart Rate & Activity Monitoring
Customizable Watch Faces
Dustproof and Water Resistant
Wireless Charging with Included Dock
Android Wear OS

Bottom Line:
This smartwatch will be a valuable asset to your everyday life. Not only that, it comes in a very classy look for the modern business professional. If you don't like the look, then you have options of customization for the watch's face. Be sure to buy the Motorola Moto 360 before the deal ends. If this deal wasn't for you, then check out our other Major Hot Deals.