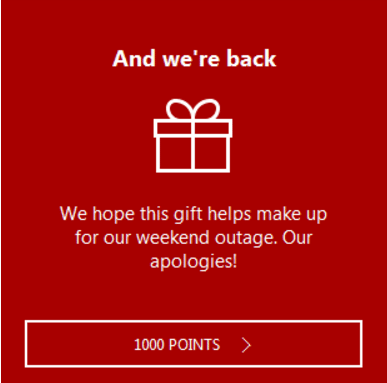 Bing Rewards is a credit system that lets you earn credits when you search online at Bing and then redeem these credits for a variety of gift cards and other rewards. During last weekend Bing experienced a Bing Rewards outage and as an apology they are giving users 500-1,000 free points. Make sure to log onto your Bing Rewards account today to get your free points as this offer is only available for a limited amount of time.

Bing Rewards Free Points:
Bonus: 500-1,000 points
Expiration: Unknown
Requirements: Have a Bing Rewards account
What To Do: Log into your Bing Rewards account and claim your free rewards
Get Free Bing Rewards Points:
Sign into your Bing Rewards Account
Go onto your Bing Rewards Dashboard and claim your free points
Get 500-1,000 Free Points
Bottom Line:
For a limited time, Bing Rewards is offering 500-1,000 free points as a apology for their weekend outage. Simply log into your Bing Rewards account and look for the offer on your dashboard and click to redeem it. And if you know anymore Freebies, be sure to let us know!