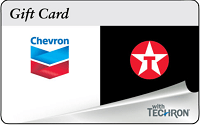 Buy and selling Chevron Texaco Gift Cards can be very profitable since you don't have to go anywhere and ship anything. This can be done in your PJs for a quick easy profit. Of course you can use the gift cards to pump gas at Chevron/Texaco for more savings. However, there are many sites are buying back gift cards and you can make a quick profit and earn credit card cash back or points/miles for your spending. Currently, you can buy $300 worth of Chevron Texaco Gift Cards for $285. However, there is currently eBay Bucks 5X the normal payout going on until 9/29 midnight. If you manage to see the promotion in your account, this is a nice profitable deal. However, follow our steps below for maximum savings!
Buy Chevron Texaco Gift Cards Maximum Savings:



Sign up for eBay Bucks for up to an additional 2% back. For current members, check in your inbox to see 5X promotion.
Then sign up InboxDollars($5 sign-up bonus) to earn 5% cash back for eBay shopping.
Within your InboxDollars account, search for eBay, and click through the link.
Add Chevron Texaco gift cads from svmgiftcards. Buy Maximum 3 – $100 gift cards for $285.
Use a Citi Double Cash Card  to earn maximum cash back.
Math: $300 Chevron Texaco gift cards – $15 savings – $14.25 InboxDollars cash back – $28.50 eBay bucks(5X promotion) – $5.70(citi cash back) = $236.55 actual payment
Sell Chevron Texaco Gift Cards Maximum Profit:
With you $300 Chevron Texaco gift card you bought for $236.55, you can sell it for maximum profit.
Sign up for a SaveYa account to sell Best Buy egift cards
At the SaveYa Sell Gift Cards link, pick Add Cards Manually.
Select Chevron gift card merchant, enter $300, then accept the offer of $264.75
Math: $264.75 Return – $236.55 Cost = $28.20 Profit
Bottom Line:
The above math is for people who were targeted for eBay Bucks 5X. Make sure you check SaveYa buy back rate since it can fluctuate depending on how many people are selling Best Buy gift cards. If you don't want to sell for a profit, then buying Chevron Texaco gift cads are still useful since you are getting a big discount and everyone needs gas! See our full list of eBay discounted gift cards for more ways to turn a profit!