For those who love taking advantage of those birthday freebies, we've got another one for you! Charming Charlie has a Charm Club Rewards Program where customers can get a free $5 voucher for your birthday month! This voucher is best spent on some inexpensive jewelry, scarves, accessories, and more! The voucher will arrive on the first day of your birthday month (So if your birthday is for example, September 14, you'll receive your voucher on September 1). In order to redeem the voucher, simply print the voucher and bring it in, or you can display it to the cashier on your phone. Don't miss out on this chance to get yourself free $5 for Charming Charlie!
Charming Charlie Charm Club Rewards Promotion:
Loyalty Program: Charm Club Rewards
Availability: Nationwide
Birthday Freebie: $5 Voucher
Signup Freebie: None
Requirements: None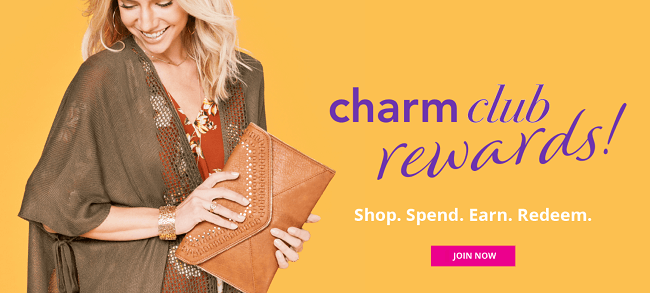 Bottom Line:
Join Charming Charlie's Charm Club Rewards today and you'll receive a free $5 birthday voucher for your birthday month. Signing up is really easy, all you have to do is provide some basic information and you'll be all ready to sign up. Once you're officially part of the rewards program, you'll receive a $5 voucher on the first day of your birthday month. Don't forget to check out our full list of birthday freebies!