Citi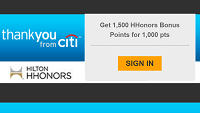 is offering 50% Transfer Bonus to Hilton HHonors when you login and transfer your ThankYou Points to HHonors points by April 6, 2016. You must transfer a minimum of 1,000 points to get the additional 500 bonus HHonors points, normally this is a 1:1 transfer. With this offer you will get 1,500 HHonors points for every 1,000 ThankYou Points, that's 1:1.5. If you stay with Hilton regularly, here is a good way to pick up easy points. You may transfer up to 500,000 ThankYou Points per Points Transfer transaction.
Citi 50% Transfer Bonus To Hilton HHonors:
Promotion: 50% Transfer Bonus to Hilton HHonors – a redemption ration of 1 to 1.50. Meaning you get 1,500 HHonors Bonus Points for 1,000 pts.
Expiration: 4/6/2016
Requirements: You must have a Citi Prestige or ThankYou Premier Card
How To Transfer Citi ThankYou Points:
Log into your Citi Account and choose the partner loyalty program in which you would like to transfer you ThankYou points to.
Transfer your ThankYou Points through www.thankyou.com or by calling ThankYou Customer Service (1-800-842-6596).
Select the participating travel loyalty program you want to transfer your available and qualifying ThankYou Points to.
Select number of ThankYou Points to transfer, transfers must be in increments of 1,000 points with a 1,000 point minimum per transfer up to the maximum of 500,000 points.
Accept terms and conditions and confirm Points Transfer request.
Bottom Line:
Just know that ThankYou points will transfer to Hilton HHonors  points at a 1:1.5 ratio at a 1,000 points minimum. This is a great now since now you can do a 50% transfer bonus which would give you 1,500 Hilton Honors Points for 1,000 ThankYou points. In addition to Hilton HHonors, it's worth mentioning that you can also transfer ThankYou points to Virgin America Elevate for 25% Bonus Miles. That would be a 1:1.25 so you would get 1,250 Elevate points for 1,000 ThankYou points. This may be the best redemption option value-wise for Virgin America flights. See all of our offers in Bonus, Points & Miles!