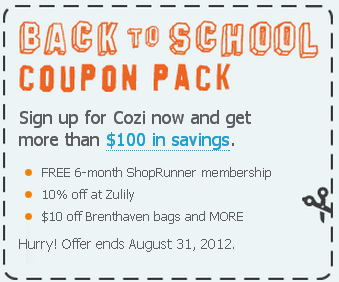 Sign up for a new Cozi account by August 31st, 2012 to get a free "Back to School Coupon Pack" that includes a coupon for a free 6-Month ShopRunner Membership ($40 value). Cozi is a free web and mobile app that helps you coordinate and manage practically anything with a shared calendar, shopping list, to-do list, meal planner, and journal the whole family can share. You want to pay special attention to the promotional six month Shop Runner membership. This site gives you free 2 day shipping on any purchase from select retailers that include Toys R Us, American Eagle, Drugstore.com, Pet Smart, Dominos, David's Cookies, and many more! Please note that this part of the coupon package only applies to new ShopRunner members only.
Coupon Pack Includes:
Free 6-month ShopRunner membership($40 value).
$10 off Brenthaven bags
10% off Zulily
$5 off $50 Mabel's Labels
$5 off Schoolbags for Kids
10% off Laptop Lunches
Free 3-month subscription with Momables
$1 off Cabot Cheese
10% off Plum District
Free 1-year VolunteerSpot upgrade
If you're a frequent online shopper, you should consider signing up for a free Cozi account today in order to get a free six month membership with ShopRunner. ShopRunner allows you to receive free two day shipping from a wide selection of retailers! This free membership could end up saving you hundreds of dollars depending on how much online shopping you do. In addition to this, you get access to coupons and discounts from several family-oriented sites such as Momables, Laptop Lunches, Zulily, and many more! Hurry and sign up for a free Cozi account before the offer expires on 8/31/2012.

Keep up with all of the best offers to save money online!