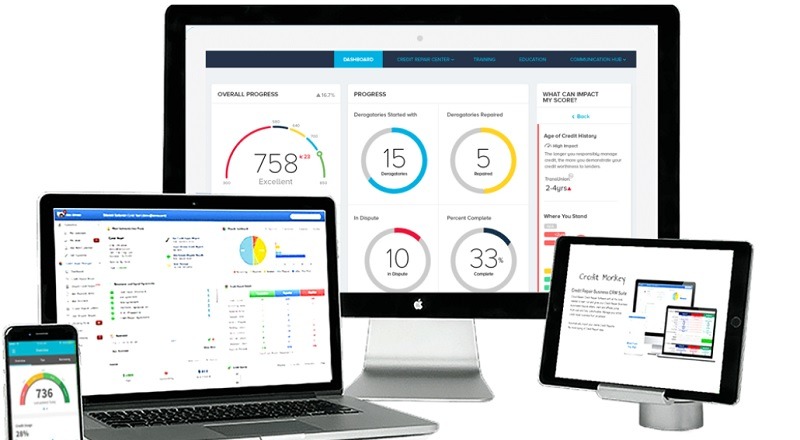 Credit Monkey (creditmonkey.com) is one of the premier credit repair businesses since 2012. They know what it takes to remove negative items from credit reports, boosting their customers' credit scores right away. Continue reading to learn more about how Credit Monkey can help you clean up your credit history and work towards a better financial future.
(Click to learn more about Credit Monkey)
---
Credit Monkey Features
Credit Monkey can help you boost your credit score. Their software goes through every detail in your credit report and disputes any negative items with the three major credit reporting bureaus: Experian, Equifax and Transunion.
To make sure you get the service that fits your needs, customers will get a free consulatation. During this meeting, you will talk about your credit situation with a manager who will explain how their software and services work.
Signing up for this software is easy with your mobile device or by visiting their website. After you endorse the electronic agreement and submit all required information, Credit Monkey will begin preparing disputes on your behalf. You'll get a dedicated account manager who will advise you on your progress and help you make decisions.
Other credit repair companies can take months to deliver results that are meaningful to you, but Credit Monkey promises positive changes within just ten days. That is because every time your credit report changes, your account manager will immediately call to discuss your report and plan the next round of disputes.
Additionally, Credit Monkey comes with a 90-day, risk-free guarantee. Once you've been enrolled and your account is set up, you can request a refund if three or less items have not been removed within the first three cycles of disputes (6 months).
---
Credit Monkey Plans & Pricing
Credit Monkey offers six different plans. Their cheapest plan is the Starter Package (Plan A), which only costs $99 per month and includes five active credit cards, up to five negative items, collections, credit card lates, store card lates, identity theft alerts and $1 million in identity fraud insurance.
The more high end option is their VIP Package (Plan F), priced at $499 monthly and includes five active credit cards, a $10,000 credit line, bankruptcy, public, mortgage, judgments, tax liens, negative items, auto lates, medical, inquires, identity theft alerts and $1 in identity fraud insurance.
---
Bottom Line
Credit Monkey is a software that helps you clean up your credit report, monitor your progress and improve your future credit. They always work hard to remove negative items from your report, with the goal of boosting your credit score. They have a six month guarantee so check them out.
(Click to learn more about Credit Monkey)