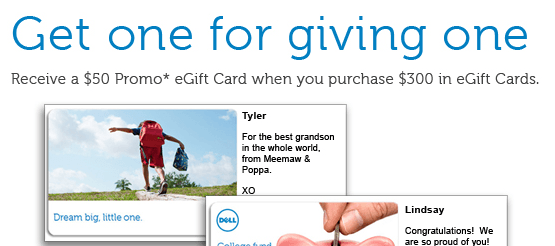 There is a chance to get a free $50 Dell Promo eGift Card after every $300 eGift Card that you buy. All you need to do is purchase a $300 Dell eGift Card and you will automatically receive a free $50 eGift Card for yourself! This offer ends on 8/28/2012 so hurry and claim your free eGift Card while this lasts.
Promotion Terms and Details:
For every $300 worth of Dell eGift Card(s), the purchaser receives a $50 Dell Promotional eGift Card.
Dell eGift Cards can be purchased in any denomination from $10 – $500.
To consolidate Dell purchased eGift Cards visit www.dell.com/giftcards.
Promotional eGift Card expires 90 days from date issued and cannot be consolidated with any other card.
Any unauthorized reproduction, sale or transfer constitutes fraud.
Offer eligible from August 14th to August 28th, 2012.
eGift Card purchase total is limited to $500 per single transaction.
Please see additional terms and conditions at http://dell.cashstar.com/about/terms_and_conditions/.Reward Chart
Total Purchase Amount ? Reward
$300.00 – $500.00 ? $50.00
Again, everybody has the chance to earn a free $50 Dell Promo eGift Card with a $300 eGift Card purchase. This is a great and simple offer that can earn you an easy $50 eGift Card.

Find more ways to save money online!