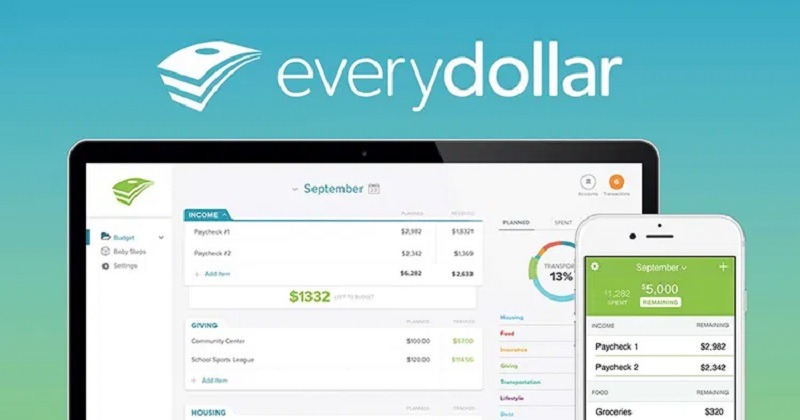 Created by personal finance expert himself, Dave Ramsey, EveryDollar is a simple budgeting software and app that helps you put your hard earned money to work for you. The tool, combined with Ramsey's Baby Steps Method, gives you a plan to reach your financial goals. Continue reading our EveryDollar Review to learn more.
---
How EveryDollar Works
EveryDollar uses a budgeting method that is very similar to the envelope system known as zero-based budgeting. With this method, you can plan ahead, create budgeting categories and pre-assigning portions of your income to those categories. That means you will plan your entire moth's expenses ahead of time.
---
Dave Ramsey's Baby Steps Method
Both created by Dave Ramsey, EveryDollar and the Baby Steps method work hand-in-hand. The latter is a guide to help you get out of debt and build your wealth. The seven goals of Baby Steps are:
Save $1,000 as an emergency fund.
Pay off all debt using the snowball method.
Save 3 to 6 months worth of expenses.
Save 15% for retirement.
Start a college fund for the kids.
Pay off the house.
Build wealth and give.
This software is designed for your to complete each goal before you move on to your next one. To view yoru progress, click "Baby Steps" on the left menu bar.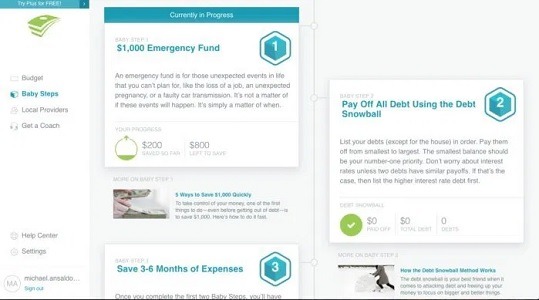 ---
EveryDollar Features
EveryDollar has a lot of tools that you can utilize. Check out its main features below:
Easy to Use
Adding a transaction is easy peasy. Just follow the steps below:
Enter the transaction amount
Choose the date of the transaction
Type in the merchant name (store, restaurant, etc.)
Choose a budget category
Split the transaction if you need to (ie: a Target run might cover several categories)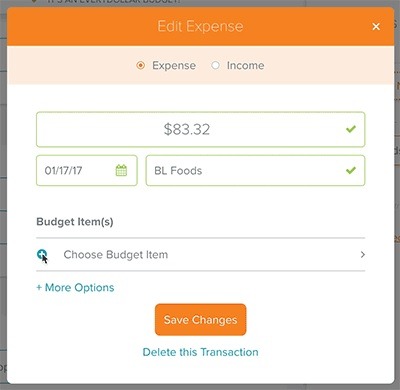 Detailed Categories
With EveryDollar, you can make as many main and subcategories as you want. Easily scroll through to see what you plan on spending, what you've already spent, and what's left in that budget category.
Create Funds
For any special things you want to save up money for that aren't recurring every month, then you can create a "Fund" on the software. Some examples can include car insurance, Christmas gifts, house repairs, etc.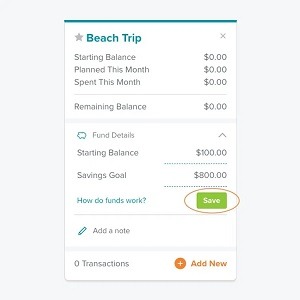 Multiple Users
The app has the ability to sync between multiple users, so everyone knows exactly how much is spent and what's left.
---
EveryDollar Pricing
EveryDollar is free for the basic version with the only downside being that you have to manually add transactions. For $99 a year, the Plus Plan lets you connect your bank accounts and credit card to your EveryDollar account, letting the software sync your transactions for you.
| | | |
| --- | --- | --- |
| Plan | Free | Plus |
| Annual cost | $0 | $99 |
| Create unlimited budgets | X | X |
| Create unlimited budgets | X | X |
| Eliminate debt using Debt Snowball | X | X |
| Connect your bank to your budget with FastTrack | – | X |
| Keep your bank accounts and credit cards in one place | – | X |
| Get full access to support staff | – | X |
If you need any help with some of their features, EveryDollar's website has a help center that is set up like an FAQ page with topics and questions listed in their table of contents. If you need any more help, you will need to fill out the Request Help form. Other than that, there aren't any options for getting assistance via email, phone or live chat if you're on the free plan. For those on the Plus Plan, you will have access to a support staff.
EveryDollar averages a rating of 4 out of 5 stars on the Google Play store and on iTunes. Although most of the reviews were positive, there were some common issues. Here are some of the issues users faced.
Limited free version. You'll have to manually track all your transactions because the free version doesn't sync up to your bank accounts and credit cards.
Paid plan is not cheap. While not super expensive, it's hard to commit to $99 a year when there are so many budgeting tools on the market that cost way less and when you're trying to get out of debt.
No reporting features. The most you'll get is a colored graph on the right sidebar that gives you category breakdowns of your spending. It's perfect as a quick overall update, but it doesn't give you any deep insights.
---
Bottom Line
EveryDollar is a great software that allows you to reach your financial goals with ease using Dave Ramsey's Baby Steps method in tandem with the software's features. The software is very easy to use in terms of adding transactions, customizing categories and creating funds. Plus, you can sync automcatically to your significant other's phone. Check out the free version to see if it is right for you.