If you want to save money booking hotels, then consider checking out Priceline Express Hotels Deals. You will be able to save up to 60% on a huge collection of top hotels with no bidding required. You can also see the neighborhood, amenities and price of each hotel before you book. You'll find out the exact name of the hotel immediately after purchase. You can definitely save a lot of money using this, so see how it works! A mystery hotel may seem intimidating at first, but the reward definitely outweigh the risks. So far it looks like there's routes from New York, San Francisco, and Orlando. This is only valid till April 7, 2018 so you must hurry! Once you get good enough, there is almost no risk involved!
Editor's Note: You can also enter promo code BBAPR18 to earn an additional 5% off.
Priceline Express Hotels Deals Summary:
Promotion: Get Up To 60% Off Hotels with NO Bidding!
Availability: Nationwide
Expiration: April 7, 2018
Terms & Conditions: Prices reflect the lowest available rate for same day bookings with a length of stay of 1 night. Express Deals services are different from published price services. Exact hotel only shown after booking. All sales final.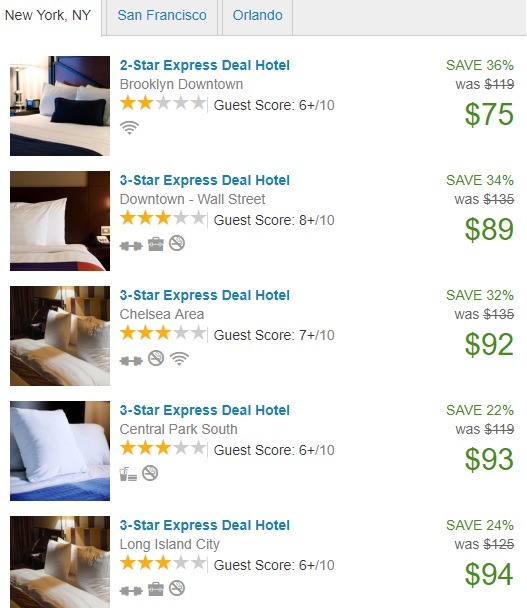 Get Up to 60% Off Hotels:
Search for your desired location of stay on Priceline.
Select an Express Deal.
Fill in your reservation information and confirm your stay.
You'll see your detailed hotel information and save up to 60% with your purchase!
Bottom Line:
If you travel often and want to save money, then Priceline Express Hotels Deals is perfect for you. There is no bidding process, and you can save up to 60% on bookings across the nation. Get routes from New York, San Francisco, and Orlando! Priceline always has the best prices, guaranteed. In fact, if you find a lower price for your Express Deal, they'll refund you 200% of the difference! Give it a shot and check it out! If not, then don't forget to see our entire list of ways to save money online and great points, miles, and bonuses offers!