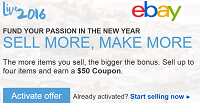 Ebay offers members Free $50 Coupon Promotion when you list up to four (4) items for sell on ebay between January 8th and 18th, and complete the sales by January 31, 2016. You must first activate the offer via your landing page or through email sent to targeted members (YMMV). With each item you sell, the more Bonus you can earn; 1st earns $5, 2nd earns $10, 3rd earns $15 & 4th earns $20. All together that equals a total of $50 in potiential eBay coupons. It's time to rummage through your home and list the things you no longer use or sell those Christmas gift cards you got but don't care for.
eBay Free $50 Coupon Promotion:
The Offer:  Sell 4 items on ebay and receive a total of up to $50 Ebay coupon. Coupon code may be used once. This deal IS good for Gift Cards however you must have at least one other additional item at check out.
Expiration: List by January 8—January 18, 2016 that sell by January 31, 2016.
Terms: Eligible sellers who create listings during the Promotion Listing Period, complete one or more bona fide sales, and receive payment in full for the item(s) from the buyer by 23:59:59 PT on Sunday, January 31, 2016, will be eligible to earn an eBay Coupon. The value of the coupon will be up to $50, depending on the number of items listed during the Promotion Listing Period. Sellers will earn a $5 Coupon for one sold item, and an incremental value will be added to the Coupon upon the sale of up to three additional items.
Sell to Earn Free $50 eBay Coupon:
Log on: Check your eBay account and see on the landing page and inbox for messages. Register for the the promotion.
Sell: List your items to sell at Seller Dashboard. You should list all 4 items at once so its more of a seamless process instead of waiting for one item to sell before you list the next. I like to set auctions to close in the evenings when people are mostly home and likely to watch and item for bid. Or list the item outlandishly cheap and set it for "Buy It Now" to speed up the entire promotional process.
Maximize: In order to get the full $50 available bonus you must sell 4 items before 1/31/2016.
Bottom Line:
These Ebay Free $50 Coupon Promotion are the types of bonuses that I like because just about anyone can do it and there is no purchase necessary. You don't have to sell anything expensive or even unique, just find something you think others would like and list them at a reasonable price to ensure it sells. Remember there is no dollar amount to meet so this should be an easy $50 after fees and shipping cost. See more ways to earn eBay Bucks.