How would you like to get paid for spending money? Wells Fargo card holders can do just that with a special targeted offer using Samsung Pay. This offer requires users to make 3 qualifying purchases using their Wells Fargo card on Samsung Pay to earn an one-time $20 statement credit. The promotional period will run from now through August 31, 2018. Registration is required and supplies may be limited so all the more reasons to claim this offer now! This money saver starts at your inbox, simply look for an email with the subject line "Earn $20 back using Samsung Pay". If you received any other offer we don't know about then tell us about it in the comment section below!

Wells Fargo Samsung Pay Promotion:
Check Your Emails!
Promotion: $20 bonus for 3 purchases
Promo Code: Unique registration code is sent out via email
Expiration: August 31, 2018
Availability: Targeted Wells Fargo members only
Terms & Conditions: Require Samsung Pay App. A purchase is defined as a single Samsung Pay transaction made with your eligible Wells Fargo Credit Card.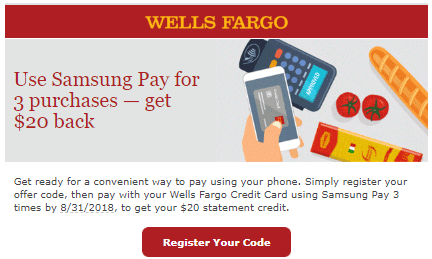 Earn $20 Bonus From Wells Fargo: 
Check your inbox for Wells Fargo offer.
Register your unique promo code.
Make 3 qualifying purchases with your eligible Wells Fargo card using Samsung Pay.
Earn an one-time $20 statement credit!
Bottom Line:
An easy $20 statement credit is awaiting some lucky Wells Fargo card holders. Make sure to check your emails for an unique code that will activate this offer, then make 3 purchases with your Wells Fargo card using Samsung Pay App. This offer is valid from now through August 31, 2018 so you have plenty of time to earn that $20 statement credit, but don't wait too long to act because you may end up forgetting all about it. If you don't have a Wells Fargo card then consider picking one up today so you can save money down the line. Make sure you don't miss out on our list of ways to Save Money!