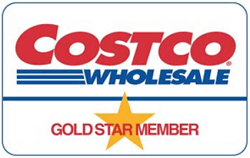 If you want to save money then buy things in bulk from Costco, to do that you would need a Costco membership card. Great news for Navy Federal members because you can get Costco Gold Star membership for free after $60 statement credit! This offer is valid if you are not yet a Costco member and will only be available for a limited time! Get your Costco membership card today and save money on electronics, computers, furniture & more! Costco is also known for the food court featuring greatest hot dogs ever and amazing pizza! Fill up on food and fill up your wallet with savings at Costco!

Navy Federal Members Costco Membership:
Promotion: $60 statement credit for purchasing Costco membership
Expiration: November 25, 2017
Availability: Select Navy Federal members
Terms & Conditions: Offer for new Costco memberships only. Quantities are limited and are available on a first-come, first-served basis. Valid through Nov. 25, 2017 or until the limit is reached, whichever comes first. In order to qualify for the Costco Membership $60 Statement Credit Offer, you must purchase the Costco Membership Activation Certificate using your Navy Federal Debit Card or Visa Rewards Credit Card.

Earn $60 Statement Credit: 
Navigate to Costco promotional site.
Purchase activation certificate using your Navy Federal card.
Check your email for Costco membership activation certificate, print it out & bring it to yoru local Costco for redemption.
Allow up to 8 weeks after November 25, 2017 for your $60 statement credit to appear.
Enjoy your savings!
Bottom Line:
Need a reason to be a Costco Gold Star member? Costco membership is an excellent way to save money, if you shop Costco as often as I do then the $60 annual fee practically pays for itself with the money I saved. Navy Federal members are fortunate to be able to get a year Costco membership and get a $60 statement credit, though you must be a new Costco member & use Navy Federal card. Get your Costco membership before the deal ends on November 25, 2017.  If you enjoy finding more ways to save, see our section for more ways to save money online!