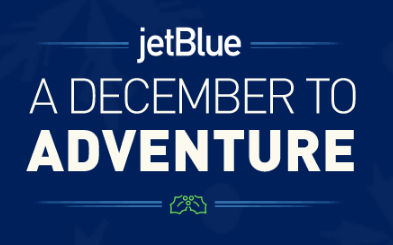 JetBlue started this holiday season with their 12 Days Hot Deals- Cool Destination Promotion. Every day during their 12 days of promotion they want you to come back and visit them to see what the current offer is and what you can earn. The Hot Deals go live at 1:00pm est. every day so make sure to swing back to their promotions page to reveal what savings you could get that day.
JetBlue is one the the leading airlines and lately they've been sharing the cheer by providing everyone a chance to earn bonus points so that the points/miles can rack up to a free airline ticket. So don't wait any longer the hot deals are almost ending!
JetBlue Hot Deal Information: 
Daily Promotion: 

Up to 50% off a winter escape

Promotion Expiration: 12/16/2016 at 11:59PM ET
Additional Terms and Conditions: All deals subject to availability, valid only through 11:59PM ET on the day of offer. Additional restr+ apply.
How To Earn JetBlue Hot Deals: 
Head over to the JetBlue 12 Days Promo page at 1:00 PM EST
Click the reveal offer button
Then Select Get Today's Deal
Bottom Line: 
Sometimes it's nice to know that JetBlue has got your back especially during this season full of travels and full of gifts. With JetBlue's 12 Days Hot Deals Promotion you're sure to find a daily hot deal that will help you rack up points/miles for airfare or it's nice to receive something back for all your gifts. Either way this is a sure way to get bonuses from JetBlue and earn TrueBlue points for future travels. If you would like to see more ways to earn points, miles, bonuses, check out our full listing!