Lending Club is the world's largest online marketplace connecting borrowers and investors. Since inception they have facilitated billions in loans to quality borrowers. They operate completely online and utilize technology to lower costs versus the traditional banking system. They pass the cost savings on to borrowers in the form of lower rates, and to investors in the form of solid returns. As with a mutual fund, their reputation rests on our track record of evaluating loans and accurately predicting performance. Apply today!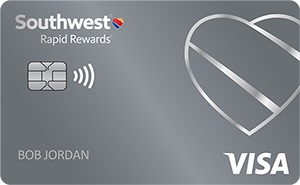 The Southwest Rapid Rewards® Plus Credit Card offers 50,000 bonus points after spending $1,000 on purchases in the first 3 months from account opening.

You'll also earn 3,000 bonus points after your Cardmember anniversary each year.

You'll earn:
• Earn 2X points on Southwest purchases.
• Earn 2X points on local transit and commuting, including rideshare.
• Earn 2X points on internet, cable, phone services, and select streaming.

You're able to redeem your your points for flights, hotel stays, gift cards, access to events & more!

This card does carry a $69 annual fee.



Learn More About This Card Here
Lending Club General Information:
Lender: Lending Club
APR: 5.99% – 35.89%
Loan Amount: $1,000-$40,000
Term Length: 3 or 5 years
Origination Fee: 1% – 6%
Prepayment Fee: None.
Unsuccessful Payment Fee: $15
Late Fee: 5% of payment due or $15 (whichever is greater)
Minimum Credit Score: 600
Availability: Nationwide except IA and WV
Additional Information: The time to receive funds is typically 7 days.
Lending Club Loan Eligibility:
Lending Club assigns a grade to every approved borrower on its website via credit reports and income data. Based on your grade, this will determine the interest rates you qualify for and it aids investors to decide whether or not to fund your loan. Borrowers will not be able see their grades; only investors can.
Apply For Lending Club Personal Loan:
As mentioned in the eligibility portion of this post, every personal loan needs to be funded by an investor(s). Lending Club's application process involves a process of steps that differ from other online lenders' requirements.
First off, proceed by filling out a preliminary online application for the desired loan amount you wish to obtain.
Lending Club then conducts a soft pull (does not affect your credit score).
Once you are approved, Lending Club lists different loan offers for you to choose from which will include the interest rate, loan terms and monthly payment amount.
Once you choose one of the loan offers and its terms, you will then be asked to complete a detailed loan application. As mentioned, Lending Club assigns you a grade and lists your loan request on its website.
After you complete the application, investors will choose whether or not to fund your loan. If investors decide to fund your loan request, elect an amount. (Investors will not see your personal information.)
If investors back at least 60% of your loan, Lending Club prepares to issue you the funded amount and your application moves into the next step. Lending Club states that less than 1% of its loans do not completely get funded. (If your loan is not funded above the 60% threshold, Lending Club will also offer you the funded amount and the option to re-list the remainder as a new loan.)
If your loan isn't backed within 30 days, your listing expires. You can then re-apply.
When your loan is funded, Lending Club will need to verify your identity and bank information. You may be required to provide additional documents during this process for verification and you may be subject to a hard pull, which can affect your credit score.
Once verified, the loan you requested usually shows up in your bank account within (4) business days. The entire process takes about a week upwards to two weeks.
Bottom Line
Lending Club gears its personal loans to borrowers with good or excellent credit profiles. If your plan is to borrow money to consolidate debt, Lending Club is a good established public company for you! After all, Lending Club's size and years of experience in the online lending industry gives the company a good reputation! Lending Club's approval process takes longer than other lenders, but it is still a good, reputable lending company to turn to when you need to borrow. Are you interested in this personal loan from this lender? Please let us know in the comment section below on your experience! If you want to search for more options on taking out the best personal loan, check out our full list of Best Personal Loans.